Elm Grove Wedding Reception Tent Rental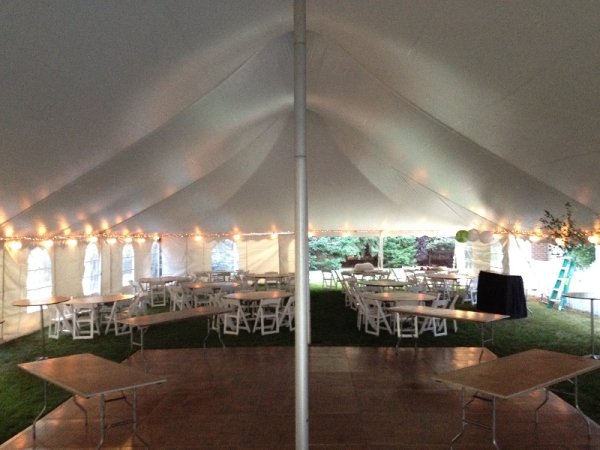 Elm Grove Wedding Reception Tent Setup
You're looking at an inside shot of a 40 x 120 pole tent during set up for a wedding reception in Elm Grove, just outside of Milwaukee. Trust us, the tables weren't left bare like they are in this photo. The banquet tables, dining tables and cocktail "Hi Boy" tables were all draped in linens and looked fabulous.
As you've probably noticed, this party tent rental has a border of globe lights. When the sun went down, light bounced off the high-peaked ceilings of the tent and created a wonderful ambiance. In addition to globe lighting, we also rent LED PAR lights with white, red, blue and green bulbs—a nice touch for tying in with any color theme you may want to have at your reception.
Also, notice the dance floor has a banquet table at each corner, which is not particularly conducive to dancing. We suggested the wedding party use the dance floor first for the buffet, then remove the tables and catering equipment so the dance floor could be used for dancing. Brilliant multi-use of the space, if you ask us.
Equally brilliant was the newlyweds' decision to rent everything from the tent to the table linens through our Brookfield Party Rental location. We supplied the wedding party tent as well as a wedding arch, tables and chairs, dance floor, lighting, sidewalls, catering equipment, food and beverage service, even a charcoal grill. As you can imagine, getting everything from one place greatly simplified planning for the big day.
Contact our Wisconsin event tent rental experts for information on our rental equipment or to secure your wedding tent rental.