Germantown Company Picnic Event Tent Rental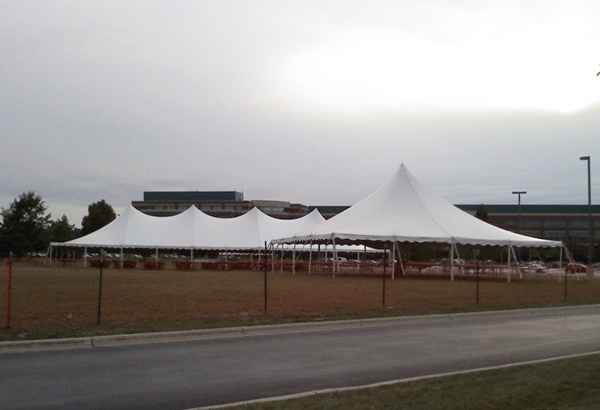 Rentals for Picnics Made Easy
Here's an excellent example of how to make good use of a vacant lot next to your company's building. In this case, it was the annual company picnic.
This photo shows two pole tents set up the day before the big shindig—a 40' by 100' tent and a 40' by 40' tent. If you look closely, you can make out rows of banquet tables under the tent in the background. Our Brookfield Party Rental location provided the table and chair rentals, food and beverage service equipment, and a small stage platform for the company's executives to award a trophy to the winner of the potato sack race.
(Ok, we made up the part about the potato sack race.)
Whether you have a corporate event, need a party tent for a wedding reception, graduation party or multi-day festival, we have everything you need to make it happen—even inflatable bounce houses for the kids and Margarita machines for the grown-ups.
If you're in the Milwaukee area, contact our Brookfield Party Rental location for all your event rental needs. We also have locations in Madison and Appleton.
Brookfield Party Rental, 262-786-2666
Madison Party Rental, 608-221-3866
Fox Cities Party Rental, 920-733-1166