Verona Pole Tent Rental for Wedding Reception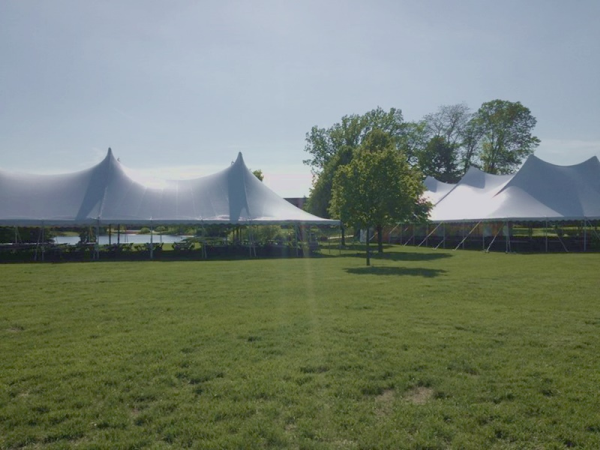 Verona Pole Tent Rental for Wedding Reception
About 10 miles southwest of the home base of Madison Party Rental is the lovely town of Verona. This day had all the right ingredients for a perfect day: gorgeous, early summer weather, a beautiful young couple about to celebrate their wedding, and these two 40' x 60' pole tents we set up in a scenic spot by a lake.
Obviously, with a guest list big enough for two big pole tents, this couple was needed to rent chairs and tables, too. And lots of them. Madison Party Rental gladly obliged. Although you can't see it in this photo, we also provided food and beverage service equipment for an impressive buffet. There's a small stage under the tent on the left, too. Elevated just a foot off the ground, it provided the perfect dais for a table where the couple and their family members sat. (Yes, you can rent a stage from us, too.)
As you can see, it was a perfect day for an outdoor wedding reception. You might think, "Oh, they didn't even need those tents!" Wrong. A tent isn't just a shelter from rain. Even if you have a picture perfect day, a tent shelters your guests from the sun and keeps everyone in one place instead of stumbling around a field with no sense of where they're supposed to be. (This is especially true after a few drinks.)
Planning a big wedding reception, fundraiser or corporate event and need to rent a big tent in the Madison area? Madison Party rental has you covered. And we mean that in every sense of the word.
Service area includes: Belleville, Black Earth, Cottage Grove, Cross Plains, Dane, DeForest, Deerfield, Devil's Lake, Dodgeville, Cambridge, Fall River, Fitchburg, Fort Atkinson, Janesville, Jefferson, Johnson Creek, Kegonsa, Lake Mills, Middleton, Monona, Mt. Horeb, McFarland, New Glarus, Pine Bluff, Sauk City, Spring Green, Stoughton, Sun Prairie, Oregon, Paoli, Portage, Spring Green, Verona, Vermont, Waterloo, Watertown, Waunakee, Westport, Whitewater, Wisconsin Dells