Madison Pole Tent Interior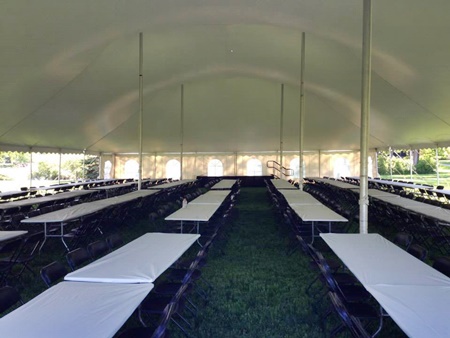 Madison Pole Tent Rental
There's nothing quite like the spacious feel of a pole tent. As you can see in this photo of a pole tent we set up for a corporate picnic in Monona, the high ceiling in a pole tent creates a unique ambiance.
This was one of our larger tents, a 40' x 120', and it was set up for banquet style dining with a buffet line and rows of tables for dining. Of course, the tables and chairs you choose are entirely up to you, as is the arrangement of them inside your tent.
It's a little hard to see, but there's a small stage at the far end of this tent (look for the handrail to the right) where the company presented awards to their employees. We can set up virtually any size stage or platform you might need—from a simple elevated podium to a multi-tiered stage for 20 or more performers.
If you're looking to rent a large outdoor party tent for your Madison area event, contact us first. Or, better yet, go online and fill out our request a quote form. We'll get back to you with a price for the tent and everything else you need to make your outdoor event memorable.
Contact our Madison Party Rental specialists today with any questions you may have about our event tent rentals in the Madison and central Wisconsin area.