UW Madison Stadium Event Tent Rental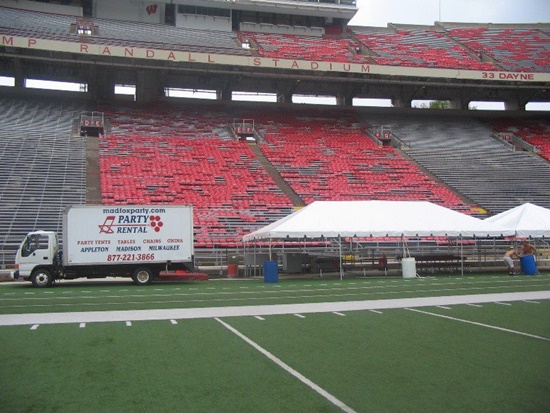 UW Madison Event Tent Rental
When our Madison Party Rental location got the call to set up a couple of event tents at the 50- yard line of Camp Randall, we were thrilled. The two frame tents you see here were set up over the summer to provide some shade during a training camp for the Badgers. (The team, not the furry critter.)
Unless you really want the classic look of a pole tent, with the high, swooping ceilings, a frame tent is a great way to go. Because there are no internal poles, the area inside the tent isn't interrupted the way it is with a pole tent. Frame tents are also nice because they usually don't require any guy wires to hold them in place. Instead of ropes to keep the tent tensioned, a frame tent has an internal frame, typically made of collapsible aluminum, which keeps the fabric tensioned.
Whether you're looking to rent a tent for a wedding reception, a football camp, or a backyard graduation party, Madison Party Rental has everything you need. From frame and pole tents of every size to table and chair rentals, dance floors, food and beverage service equipment and more.
Planning an event? Check our Planning Guide, or ask our event rental professionals to help you determine what you need.
Contact our Madison party and event rental specialists for assistance choosing the right rental tent for your event.