Madison Wedding Reception Party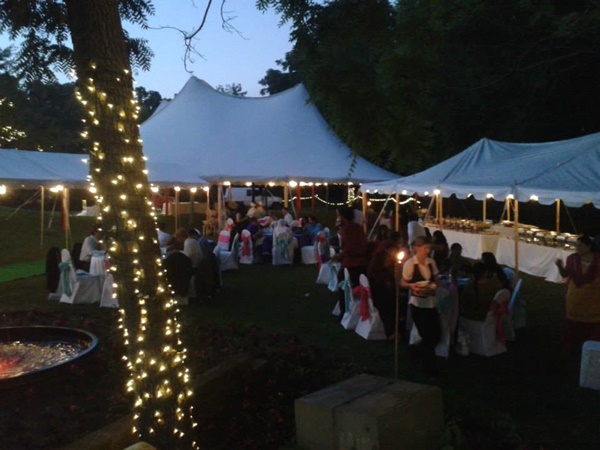 Madison Wedding Party Tent
Here's a photo of a small wedding reception party in full swing. In the background is a pole tent, to either side are frame tents. The main dining area is under the pole tent, with a buffet table under the frame tent to the right.
One thing that really stands out in this photo is the lighting. We supplied the globe lights under the pole tent and frame tents, while our customer added the wrap lights around the tree trunk in the foreground, along with a few strategically placed Tiki torches. If you're planning an event that will outlast the sun, you definitely want your tent lit up. In addition to globe lights, we also offer LED PAR lights, which are great for adding some dramatic color to your tent.
Besides tents and lights, our Madison Party Rental location has virtually everything else you might need to host a wedding reception—from tables and chairs to wedding décor, catering equipment, dance floors and A/V equipment. You can browse all our tent rental products online, and don't hesitate to contact us if you have questions about anything.
Contact our Madison party tent rental store today for assistance with your wedding rentals.