Milwaukee Tent Rental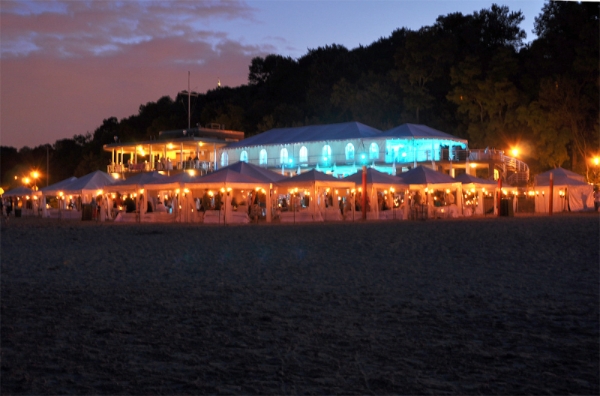 Bed event on Lake Michigan
Milwaukee Tent Rentals Create Unique Ambiance For Unique Event
Here's another photo of the B.E.D. fundraiser held on the shore of Lake Michigan. The event raised money for Pathfinders, a non-profit group helping homeless and runaway teens in the Milwaukee area, although to the best of our knowledge no homeless teens spent the night on these beds.
For this event, our Brookfield Party Rentals store provided multiple 10 x 10 canopy tents as well as a much larger event tent equipped with sidewalls, tables and chairs, catering equipment, lighting and a generator—it's the large tent seen above the smaller tents in the image above. We also provided the Tiki torches, which you see glowing in the above photo.
No matter what type of event you're planning, from a backyard graduation party for family and friends to a multi-day outdoor festival, we have the party tents and supplies you need to ensure your event is a resounding success. With locations in Brookfield, Madison and Appleton, we provide event tent rentals throughout all of southeast Wisconsin and beyond.
If you're planning a wedding reception, graduation party or other similar event, check out our tent rental packages page. You can choose a package based on the number of guests you anticipate having. You may also want to check out our party and event tent Planning Guide page for tips on choosing the right size tent.
Of course, our tent rental pros are also available by phone or online to answer any questions you may have.