West Allis Party Tents For Company Picnic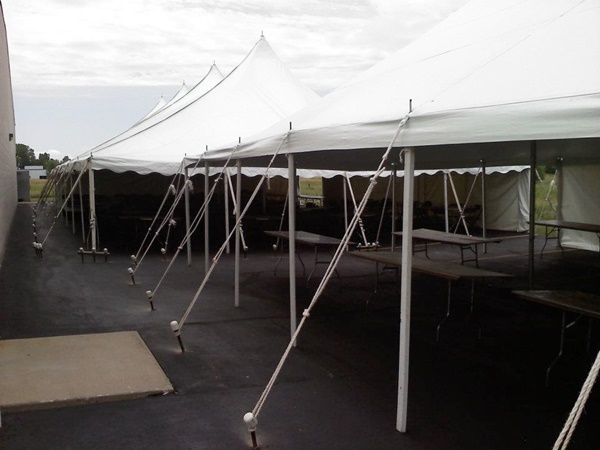 West Allis Tent Rentals for Company Picnic
These tents were set up in the parking lot of a trucking company in West Allis for a company-wide picnic. Due to a lack of space inside the building for all the employees, drivers, spouses, family and assorted freeloaders, an outdoor gathering was necessary.
These pole tents were the perfect solution for Wisconsin's notoriously sketchy spring weather. With sidewalls mounted on the far side of the tents and a placement close to the building, guests were sheltered from the unseasonably cold winds we've come to expect even in April.
This photo was taken before all the tables and chairs were set up, and before the grills were unloaded. If you need those for your event, rest assured we have them in abundance, along with food and beverage service equipment, lighting, fans, and hundreds more commonly requested rental items.
Notice the stakes in the pavement to anchor the tent? Because pole tents require tension on the canopy, it's necessary to secure stakes into the ground…or, in this case, into pavement. This requires drilling pilot holes about two feet into the ground. When the event is over, you're left with holes about half an inch to an inch in diameter which are easily filled with asphalt and gravel.
If you're planning an outdoor event for a big group, a party tent is a great way to go. Naturally, we'd recommend Brookfield Party Rental if you're anywhere in the area. If not, check with our other location in Madison.
Brookfield Party Rental, 262-786-2666
Madison Party Rental, 608-221-3866