New Berlin Graduation Tent Rental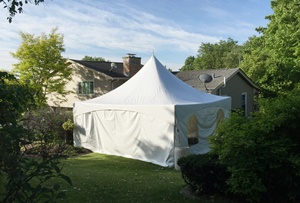 New Berlin High School Graduation Party Tent Rental
Our Brookfield Party Rental store provided this 20 x 20 tent rental, along with 6 tables and 60 chairs, for a high school graduation party held in early June. Despite it being June, summer had not yet arrived in Milwaukee and temperatures were stuck in the mid-40s.
The family hosting the event kept their eye on the weather forecast and decided at the last minute to add sidewalls and a heater to the tent. Good thing, too. Winds picked up the day of the party and topped 25 mph! The tent, however, held up fine—as did the partygoers.
If you are planning a graduation party for your son or daughter, be sure to check out our graduation party packages. We put together these basic packages of a tent, tables and chairs with the idea of making party rentals more affordable. You can add whatever extras you might want—flatware, lights, a dance floor…anything we offer for rent you can add a la carte to your package.
Be aware that the end of the school year is usually a very popular time to rent a party tent, so we suggest you plan well in advance by making your party tent reservation early.