Dance Floor Rental Milwaukee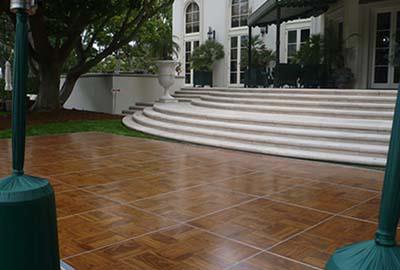 Fox Point Wedding Reception Dance Floor Rental
The huge dance floor rental you see here was for a Fox Point wedding reception. These 3' x 4' plywood panels are covered with a weather-resistant vinyl that looks like oak parquet. We can set up a dance floor like this wherever you have level ground.
If your event will be held indoors, we recommend our indoor-only floor. Made of 3' by 3' sections of wooden parquet tiles, these floors have the look and feel of real wood. As with the vinyl-covered plywood floor, we handle the setup and takedown of these floors.
In case you're wondering, the tall green things to the right and left of the photo above are patio heaters, which went under the tent we set up nearby. If you are planning an event that will take place during one of the cooler months, we highly recommend you rent a tent heater, or at least some patio heaters. Once you choose a tent size, we can help you determine how big of a heater (or how many patio heaters) you'll need.
Planning a big event is always stressful, but we're here to make it a little less stressful. Let us know how big of an event you're planning and we can help you estimate the number of chair and table rentals you'll need, the size of heaters and generators that will work best, and what type of food service equipment to rent.