Pewaukee Wedding Reception Tent Rental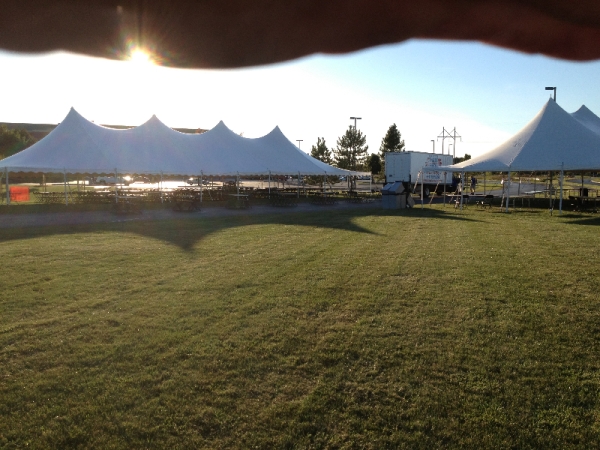 Pewaukee Wedding Reception Tent Rental
For this Pewaukee wedding and reception, we set up two tension style tents and provided hundreds of chairs and tables, as well as catering equipment for a buffet and a large grill. Having a separate tent for the wedding ceremony (seen to the right) is a great idea, as it eliminates the need to rearrange everything under the tent following the wedding ceremony. Guests can simply walk from the ceremony tent to the reception tent, where tables and chairs are already set up for the celebration.
In addition to the seating arrangements and food and drink service, we also offer the most commonly requested décor for weddings: the traditional wedding arch, pillars for displaying your unity candles, a guest book stand, and more. With our years of experience providing rentals for countless weddings, we can also advise you on ideas for the décor of your wedding tent.
The tents we set up for spring and summer weddings usually have no sidewalls, due to the fact it would get far too hot inside a covered tent--even with fans blowing. On occasion, we will install side panels along one side of a tent if requested. Usually, this is to block an unsightly view or to keep looky-Lous and party crashing freeloaders away. For fall and winter weddings, though, sidewalls are a necessity. We also have propane heaters and generators to keep a tent warm during a Wisconsin winter.
Check the location nearest you for wedding tent information and availability:
Brookfield Party Rental, 262-786-2666
Madison Party Rental, 608-221-3866