Pole Tent Rental for Festival in Middleton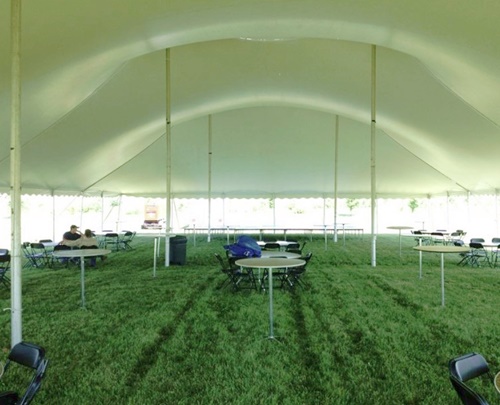 Pole Tent Rental For Festival in Middleton
If you ever made a tent in your backyard with blankets and yardsticks, that's the basic principle behind a pole tent. Here you can really get a feel for the incredible spaciousness under a pole tent. The support poles push the peaks of the tent about 30' high!
This is one of the larger tents we rent, a 60' by 120'. Tents this size are usually rented for large events like festivals, concerts and Italian weddings. You can see several cocktail tables and round dining tables set up under this tent, as well as a stage in the background. This tent was set up for a large, mostly standing crowd, but we also set these up with banquet style dining tables and buffet tables.
Whatever kind of event you're planning, we have just about everything you could possibly need. To make it easier, we even offer event tent rental packages for weddings, graduation parties, winter events and even a "build your own" package. Need help figuring out what size tent to get, or what add-ons you should add? Just call the store nearest you.