Pole Tent Rental For Wedding By The Lake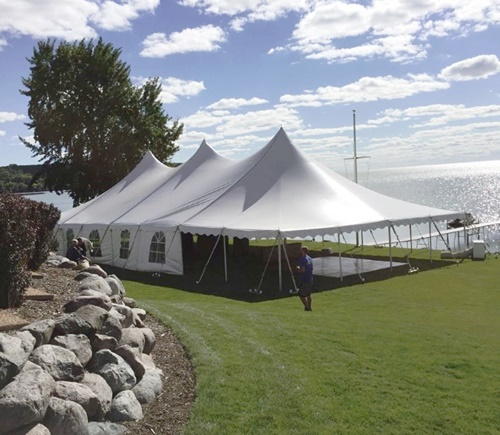 Pole Tent Rental For Wedding By The Lake
Talk about a picture perfect setting for a wedding reception. Sidewalls? Check. Dance floor? Check. Sunny day and a million dollar view? Double check.
The great thing about a pole tent is how spacious it feels inside. The soaring height not only looks great, it also helps dissipate heat inside the tent on a hot day. The sidewalls on this tent were added to keep the lake breezes from whipping through the tent. Normally, though, we don't advise sidewalls on a tent during summer months. It's just too hot.
Whether you're planning a small reception for family and friends or a huge event for a couple hundred guests, we have a tent for you. We also have the tables, chairs, grills, chafing dishes, dance floor, fans, and slushie machines…plus hundreds of other add ons.
Are you ready to party? Get in touch with us.
Contact us for more details on event tent rentals throughout southeast Wisconsin.