Striped Party Tent Rental for Madison Festival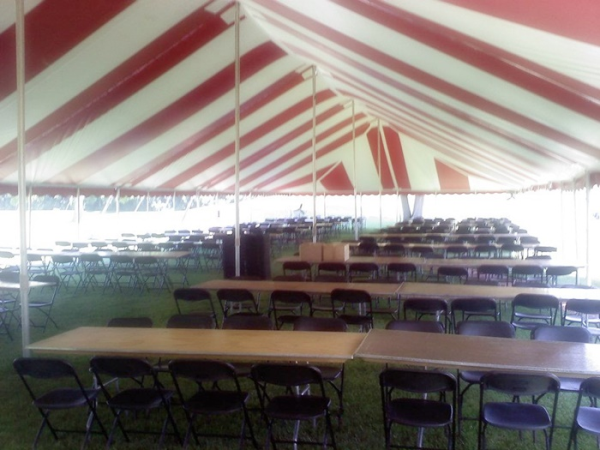 Striped Party Tent Rental for Madison Festival
Nothing says "festival" like a red and white striped party tent. Perhaps it's the subliminal connection we make to the circus, maybe it's just the inherently happy vibe of red and white stripes—whatever the reason, festival season in Wisconsin sees these red and white tents sprouting up all over the place.
This particular tent was the designated dining area for the beer and brats being offered at a Madison area Octoberfest celebration. The tables look a bit stark in this photo because they hadn't been covered yet. While we offer linen tablecloths, the event organizers wisely chose disposable vinyl tablecloths. (Obviously, we rent tables and chairs, too.)
Are you planning a parish festival, a fundraiser, a car show or anything else other than a wedding? You probably want a striped tent. In addition to the red and white striped variety seen here, we also have some tents with green and white stripes and yellow and white stripes.
Check the location nearest you for availability:
Brookfield Party Rental, 262-786-2666
Madison Party Rental, 608-221-3866
Fox Cities Party Rental, 920-733-1166