UW Madison Party Tent Rental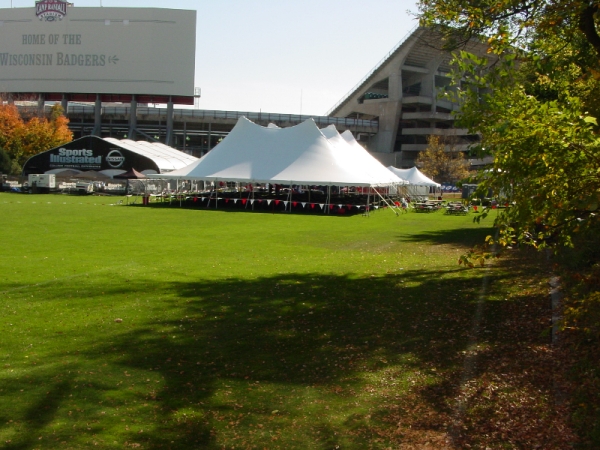 60x100 Pole Tent
Madison Event Tent Rental For Badgers Game at UM
We pitched this 60 x 100 pole tent just outside of Camp Randall, home of the mighty Badgers, for a game against some schlubs from Ohio. Yes, there's nothing quite like the crisp fall air of football season, the gentle undulations of a party tent's canvas, and a double grilled brat with sauerkraut…but we digress.
This 60 x 100 tension style tent you see here was just the right size for the mobs of famished university students who descended upon the luncheon buffet. In addition to the party tent rental, the University of Wisconsin wisely rented banquet tables and chairs, catering equipment, a grill, and an assortment of food and beverage service items. Our Madison Party Rental location provided all the rentals for this event, and got a big high-five from Bucky Badger himself.
No matter what type of event you're hosting, or how many guests you have on your list, let us help make it perfect. We offer a variety of affordable packages for wedding receptions and graduations as well as "build your own" packages. These packages start with a tent and enough tables and chairs for the number of guests you plan to invite. From there, you add on extras and accessories as you see fit. (You'll find these add-ons on our Products page.)
Contact our Madison event tent rental location for more information or to reserve a party tent for your event.