Party Tent Rental At Wauwatosa Church Festival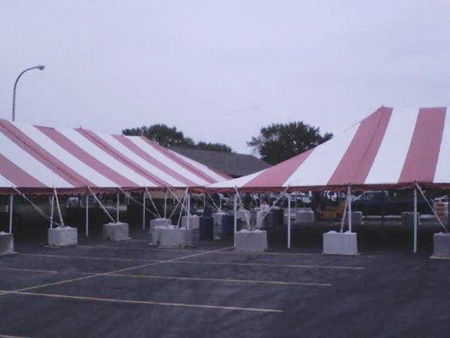 Wauwatosa Parish Festival Tent Rentals
Nothing says "parish festival" like a parking lot with striped party tents. Although it may look a bit desolate in this photo taken shortly after setting up the tents, we can assure you the place was rocking with a good-sized crowd and a 5-piece polka band.
Notice the square shaped blocks along the perimeter of the two tents? Those are wooden crates with sandbags inside. We use these in situations where it's not possible to set stakes into the asphalt (either because of ground conditions or the preference of the property owner.) The weighted crates work fine, and one benefit to using them is that it's just about impossible to not see them and end up tripping over them.
Looking for a splash of color for your event? Our Brookfield Party Rental location rents several different colored striped tents. Besides the red and white striped tents shown here, you can also choose from blue and white or yellow and white tents. Or one of each.
Need help figuring out what size of tent to rent or how many you'll need? Check out our online party and event planning guide. If you still have questions or would like the input of our Milwaukee area tent rental pros, feel free to contact us by phone or email.
Contact our Milwaukee party tent rental experts at our Brookfield Party Rental location.