Mequon Wedding Reception Tent Rental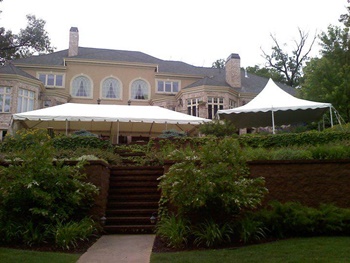 Mequon Wedding Reception Tent Rental
We set up tents for a lot of wedding receptions all over the greater Milwaukee area, but this has to be one of the most scenic locations we've ever come across. The owners of this beautiful estate wanted to host a small reception in their backyard, and these two frame tents were sized just right for the location.
There are two things we really like about frame tents: 1) Unless it's a really windy day, they don't usually require much in the way of guy wires to hold them in place and 2) because all the support structure for the tent is along the outer perimeter and in a collapsible frame inside the top part of the tent, you have an open interior free of support poles. We also really like how the metal support frame around the upper part of the tent provides a great place to hang strand lighting or lanterns.
Okay, for those of you counting, that's actually three things we really like about frame tents—which we think you'll like, too.
Besides frame tents in a wide range of sizes, we also rent pole tents and collapsible tents, as well as the hundreds of other party rental items for events of all kinds. Need to rent tables and chairs in Milwaukee, food service equipment, or even a bounce house for a child's party? Count on Brookfield Party Rental.
Contact our Brookfield Party Rental location for assistance with ordering the right sized tent for your event.