Wedding Reception Tent Rental Mequon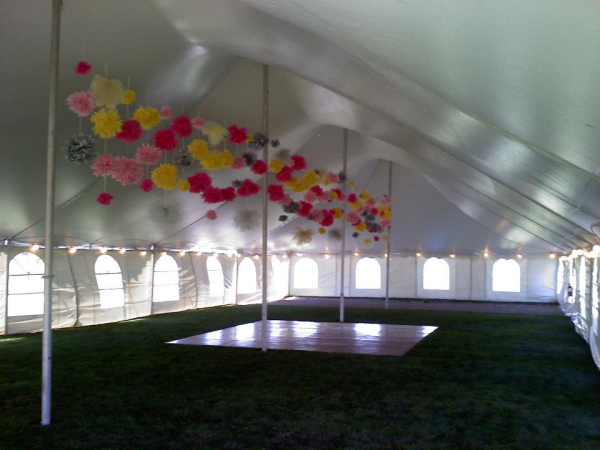 Wedding Reception Tent Rental in Mequon
Pole tents like the one in this photo are easily the most popular tent for large weddings. The soaring ceiling creates a spacious ambiance inside the tent perfect for that special day.
We outfitted this tent with sidewall panels, a dance floor and a string of lights around the perimeter. If you're wondering about the beautiful paper floral clusters suspended in mid-air, that's a little something the wedding planner cooked up. We love it!
If you're planning a wedding, or are a professional wedding planner, our Brookfield Party Rental has just about everything you'll need for a memorable event. From tents of every size to dance floors, tables and chairs, food service equipment and wedding décor, we rent it all.
For over 40 years, we've been providing party tents and equipment for outdoor events throughout southeast Wisconsin. The thank you notes and positive reviews from our many customers speak for themselves. Perhaps you'll be next?
We certainly hope so!