Wedding Reception Tent Rental in Sussex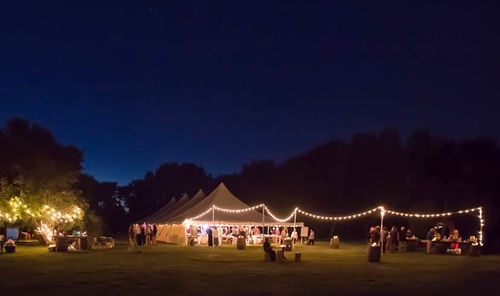 Wedding Reception Tent Rental in Sussex
Our Brookfield Party Rental location set up the pole tent you see here. Since this reception was held in late summer/early fall, when temperatures can dip down in the evening, sidewalls were added to one side of this 40' by 60' tent to help retain some warmth under the tent. We also provided the globe lights you can just make out around the perimeter of the tent. The string of lights leading out into the field was added by the owners of the location.
We just love seeing these high-peaked pole tents at night, with the glow from the lighting creating a festive ambiance. For anyone who loves nature, or who can't stand being in a stuffy, formal venue, a wedding tent rental is the way to go. Everyone is noticeably more relaxed and at ease than they are in fancy hotel ballrooms and other conventional wedding reception venues.
And just look at this photo--how could you not want to host a wedding reception like this?
Brookfield Party Rental rents:
Contact our Milwaukee area party tent rental experts today for expert assistance with event tent rentals.