Wedding Ceremony Tent Rental Madison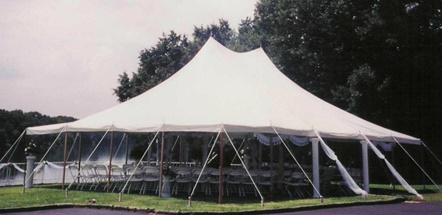 Small Pole Tent Rental For Madison Wedding Ceremony.
This is about as picture perfect of a setting as it gets. We put up this small pole tent for a wedding ceremony near Madison. Along with the tent, we also provided the folding wooden chair rentals and the decorative ionic columns you see marking the entry to the tent. Although you can't see it very well in this photo, we also provided the wedding arch rental for this ceremony.
Whether you're planning a small-ish ceremony like this one, or something more grandiose requiring a tent that can hold a couple hundred guests, Madison Party Rental has everything you need to make your big day a huge success. We also offer Wedding Party Packages, which consists of a tent, tables and chairs. You choose the package size that works best for the number of guests you're planning to invite, then add any extras you may want.
If you have any questions or concerns, let us know. We'll be happy to share some expert advice and helpful suggestions.
Contact Madison Party Rental for more information on wedding tent rentals.