White Wedding Tent Rental in Howard, WI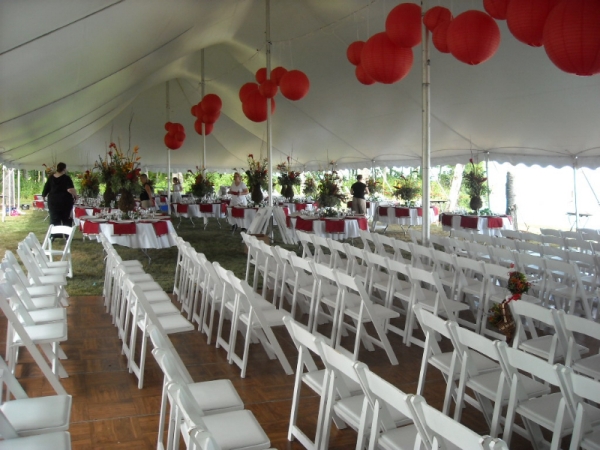 Wedding ceremony and reception setup under white wedding tent
Rentals for Weddings Made Easy
It used to be that marriages were performed in a church or a courthouse, followed by a reception at a hall or other venue. Today, many couples combine the wedding ceremony and the reception in one location—with the outdoor party tent being an increasingly popular choice. At least during temperate months.
This beautiful white wedding tent provided the perfect setting for a wedding ceremony and reception in Howard, Wisconsin. The traditional white wooden folding chairs were placed on a large parquet tile dance floor for the ceremony, then moved to the dining area for seating and to allow dancing on the dance floor.
Whether you're planning a large wedding reception or a small one for family and friends, our Fox Cities Party Rental location has everything you need to make it memorable. Start by taking a look at our wedding reception packages. Once you've decided on one which fits the size of the reception you're planning, you can add on extras like a decorative wedding arch, guest book stand and red carpet.
Contact our Fox Cities wedding tent rental business for more information or to book your tent rental.