Event Tent Rentals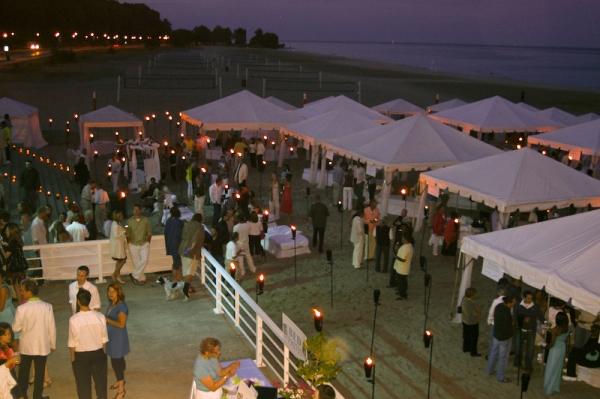 B.E.D. event on Lake Michigan
Event Tent Rentals: All Sizes, All Occasions
When we first got the call for a few dozen frame tents for a fundraiser event featuring beds on the beach, we thought someone was pranking us. This was probably the most unusual event we ever encountered. Yes, there were beds on the beach. A lot of them. All part of a swanky fundraiser for Pathfinders, a non-profit group that helps homeless and runaway teens in the Milwaukee area.
In the photo above, you can see a number of our frame tents scattered across the beach. They helped create a sort of bedroom for the various beds, although as far as we know no one actually used a bed to take a nap. With all the beds there, we almost expected the guests to be wearing pajamas.
For this event, we also provided Tiki torch rentals, which lent a festive mood to the event after the sun went down. The beds were provided by the event sponsor, of course. However, if you think it would be a good idea to have a few fold-up mattress beds at your event in case someone gets sleepy or has too much to drink, we do offer these.
Our tents range in size from the small-ish frame tents shown here to tents large enough to host several hundred guests. If you haven't already checked out our tents for rent, this is a good place to start.