China
. All prices subject to change without notice.
Elegant China for Wedding Receptions, Corporate Events and Parties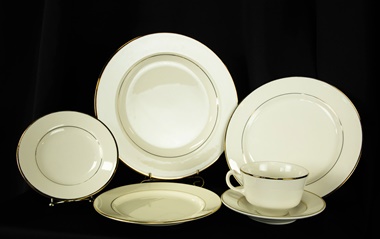 You've spent hours vetting caterers and agonizing over the menu for your event. But what happens when your guests take their seats at the table? Will the place settings reflect the care and attention to detail you've lavished on everything else? They will if MadFoxParty has anything to do with it.
As your guests sit down to dine, they may experience a momentary sense of disorientation. This is actually quite common. Our place settings are so elegant, so like what one would expect to find in a fine restaurant, guests often forget for a moment they're dining in a tent. Kudos to you for choosing MadFoxParty!
We offer two options for china: One is a pure white china, the other a creamy white with gold edge. Each set of china has everything civilization has deemed essential for a proper meal: Namely: a dinner plate, salad plate, bread and butter plate, coffee cup with saucer, and a soup cup. Naturally, you will want to add table linens to your order, too. Ours are sized to drape elegantly over the table with sufficient length to hide the fact it is a rather utilitarian rental table. And unless you're planning on serving only pizza (fine for graduation parties only), you'll want to browse our flatware rentals, too.
Bring on the feast!
China Service—Pure White:
Dinner Plate- 11"
Salad Plate- 9"
Bread and Butter- 7"
Coffee Cup
Saucer
Soup Cup
China Service—Creamy White with Gold Edge:
Dinner Plate- 10"
Salad Plate- 7"
Bread and Butter- 6"
Cup
Saucer
Luncheon Plate- 9"
Contact our Wisconsin event specialists for guidance on choosing the type and quantity of china needed for your Milwaukee, Fox Cities or Madison area event.