Frame (Free-Standing) Tent Packages
. All prices subject to change without notice.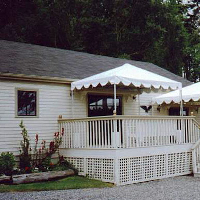 Deck/Patio Package 10x10
View Details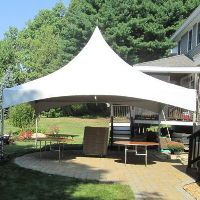 Driveway/Patio Package 20x20
View Details
Not every event requires a circus-sized pole tent. If you're planning a small backyard party or get together with 10 to 50 guests, these packages are sized just right.
Tables and chairs are included with these packages, along with table covers. If you need anything else, like food and beverage service equipment, china and flatware, or maybe an inflatable bounce house for the kids, you can add them to your order before completing checkout.
10' x 10' Tent Package
One 10' x 10' frame tent (includes weighting or staking)
Three 30" bar height tables with black Spandex covers
12 bar stools
One 6' banquet table with Spandex cover
20' x 20' Tent Package
One 20' x 20' High Peak frame tent (includes weighting or staking)
Six 8' banquet tables
48 black folding chairs
Why Renting is a Far Better Option Than Buying a Small Canopy Tent for Your Event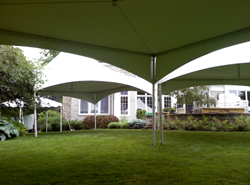 Here's an example of how frame tents can be set up adjoining each other.
So you've got plans for a small outdoor gathering at your house (or business). You've wisely come to the realization that providing some sort of shelter from the sun (or rain) is essential. Good on you!
You could head to your local big box store and buy some sort of canopy tent, but have you taken a good look at the quality of those tents? Most are pretty flimsy and don't even include ropes and stakes for securing it. Seriously, there's a big quality difference between them and the tents we rent.
If you're still thinking about buying one, ask yourself if you anticipate using it for any future events, or will it just be one more thing you have to find a place to store until you inevitably end up unloading it five years from now at a garage sale for pennies on the dollar?
Assuming you buy a tent, you're still going to need chairs and tables. Have you priced tables lately? Even a basic 3' x 3' folding card table is $25. If you need to seat 40 guests, you're looking at $250 just for folding card tables—which you'll then have to store…somewhere. Add this to the cost of buying a tent you may never use again, plus the hassle of rounding up 40 chairs somewhere.
So, yes, renting a free-standing tent package from us makes a lot of sense. We deliver the tent, tables and chairs. We set up the tent for you, but leave the tables and chairs for you to set up. When your party is over, we pick up the tent, tables and chairs.
It really is about as hassle-free as it can be.
What Types of Events Are These Tent Packages for?
Anything, really. For instance:
Baby Showers
Birthday Parties
Bachelor/Bachelorette Parties
Family Reunions
Anniversary Parties
Big 5-0 Parties
Retirement Parties
Contact our Wisconsin event tent rental specialists for more information or a price quote.
Madison Party Rental serves the Madison area and surrounding cities, including:

Cottage Grove, Dane, Deerfield, Dodgeville, Cambridge, Fitchburg, Fort Atkinson, Janesville, Kegonsa, Lake Mills, Middleton, Mt. Horeb, McFarland, New Glarus, Pine Bluff, Spring Green, Stoughton, Sun Prairie, Oregon, Paoli, Verona, Vermont, Waterloo, Waunakee, Whitewater, Wisconsin Dells

Brookfield Party Rental serves the greater Milwaukee area, including:

Brookfield, Bayview, Brown Deer, Delafield, Elm Grove, Fox Point, Franklin, Germantown, Glendale, Grafton, Greendale, Hales Corners, Lannon, Menomonee Falls, Mequon, New Berlin, Oconomowoc, Pewaukee, Port Washington, River Hills, St. Francis, Shorewood, Sussex, Wauwatosa, Whitefish Bay