Your Backyard Is Due For A Party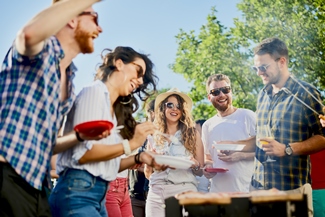 As we all know too well, there are only a few months out of the year in Wisconsin when we can even contemplate the idea of a backyard party. So when those months come along, we have to make the most of them. If it's been too long since you hosted a backyard party, or if you've never even considered it before, here's a guide to making it happen.
Pick a Reason for Your Party
You don't need a particular reason to throw a party, but it helps to have one. Is someone celebrating an anniversary? Maybe a birthday? Perhaps a retirement party? Instead of the usual dinner at a nice restaurant, host the celebration at home with a backyard party.
If there's no particular reason for throwing a party, you can just tell your guests your hosting a grill out. Or you can come up with a theme. For instance, a "Midsummer Night's Dream Party," "Summer Bash Party," or perhaps a traditional style garden party. The more of a theme you provide for the party, the more likely your guests are to RSVP.
The Garden Party: Predecessor to the Backyard Party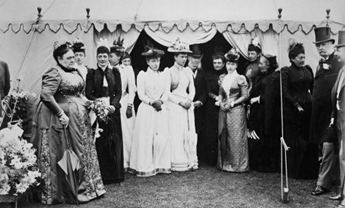 What we refer to today as a "backyard party" is the Americanized version of the British garden party. Queen Victoria started the garden party trend in the 1860s as "breakfasts," although they were held in the afternoon.
Originally, only Royals and people of noble rank attended garden parties, and they served as presentation parties for debutantes. The traditional fare at these events was tea and sandwiches.
Garden parties changed dramatically in 1952 when Queen Elizabeth assumed the throne. She ended the practice of debutante presentations at garden parties, instead using the events as an opportunity to recognize the work of those in the general public for their services to the country.
With the garden party no longer solely for nobility, the general public embraced the concept enthusiastically and it wasn't long before they were hosting garden parties at homes all over Britain.
A Small Party Is Much More Manageable and Much Less Stressful Than a Big Party
Unless you're hosting a wedding reception or some other big event, you'll probably want to keep your party fairly small. A guest list of 15 to 20 is about right for most backyard parties. That's enough to make it feel like a party without making it feel like a hassle. Of course, feel free to plan something smaller or larger.
Two Party Tent Packages Just Right For Backyard Parties
We have two free-standing tent rental packages sized just for backyard parties: one has a 10' x 10' frame tent that's just the right size for decks and patios, the other has a 20' by 20' high peak frame tent that works great on larger patios or anywhere else in the backyard.
10' x 10' Tent Rental Package

20' x 20' Tent Rental Package

One 10' x 10' frame tent (with weighting or staking)
Three 30" bar height tables with black Spandex covers
12 bar stools
One 6' banquet table with Spandex cover

One 20' x 20' High Peak frame tent
Weighting or staking for tent
Six 8' banquet tables with white banquet linens
48 black folding chairs
Quick Links to Our Most Popular Rental Items:
Ready to Party?
You can order everything you need online, but if you have questions on anything don't hesitate to contact us at the location nearest you:
Madison Party Rental serves the Madison area and surrounding cities, including:

Cottage Grove, Dane, Deerfield, Dodgeville, Cambridge, Fitchburg, Fort Atkinson, Janesville, Kegonsa, Lake Mills, Middleton, Mt. Horeb, McFarland, New Glarus, Pine Bluff, Spring Green, Stoughton, Sun Prairie, Oregon, Paoli, Verona, Vermont, Waterloo, Waunakee, Whitewater, Wisconsin Dells

Brookfield Party Rental serves the greater Milwaukee area, including:

Brookfield, Bayview, Brown Deer, Delafield, Elm Grove, Fox Point, Franklin, Germantown, Glendale, Grafton, Greendale, Hales Corners, Lannon, Menomonee Falls, Mequon, New Berlin, Oconomowoc, Pewaukee, Port Washington, River Hills, St. Francis, Shorewood, Sussex, Wauwatosa, Whitefish Bay