Mobile-icious: Food Trucks Bring Flavor and Fun To Wedding Receptions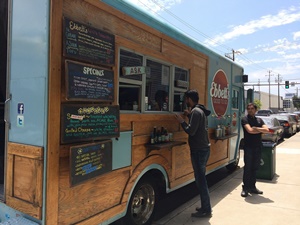 The popularity of food trucks is making them an attractive alternative to catered wedding receptions, especially outdoor receptions held under party tents.
If you're planning an outdoor wedding reception and want to do something different than the conventional, scripted wedding reception where everyone sits down at a certain time to eat, then a food truck catered reception may be right up your alley. So to speak.
Food trucks have become increasingly popular dining options in cities all across America. While once dismissively referred to as "roach coaches," today's food trucks serve a wide variety of cuisines—and most of it is definitely restaurant quality. They're a perfect match for the almost fair-like atmosphere of a wedding reception held under a party tent.
Food Trucks A Cost-Effective Alternative To Catered Dining Wedding Receptions
If you've looked into catering for a lunch or dinner at your reception, you know how incredibly pricey it can be. And, of course, you can't have a catered meal without serving trays and a full complement of nice china, flatware and glasses. With a food truck, you can keep it simple: Just a basic set of plates, glasses and silverware is the most you'll need. Of course, you'll likely want to rent tablecloths and linens to dress up the tables a bit.

Wedding reception essential: A rental bar for your bartender!
Often, couples hiring food trucks for their wedding will supplement the fare with a table full of hors d'oeuvres or snack type foods. As for libations, if you're just setting out self-serve beers on ice, you can probably make do with a dining table covered with a nice tablecloth.
If you have a bartender serving mixed drinks, though, you'll want to rent a bar. Besides having an elevated counter for the bartender to put prepared drinks on, there's also a work area below where the bartender can work his/her magic without cluttering up the area where prepared drinks will be set. Our Stowaway bar to the left is an excellent choice. Of course, you'll also need to rent tables and chairs for your guests to sit down and eat.
One more thing worth mentioning: Although you'll have a large tent for your reception, it's a good idea to rent a canopy tent or two to provide shelter for your guests while they're waiting for their order from the food truck. If it's a hot day or there's a sudden downpour, having an overhead shelter near the food truck will be greatly appreciated.
How Do You Hire A Food Truck For Catering A Wedding Reception?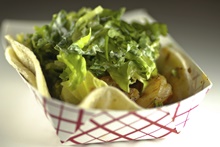 First, you have to find out if they're interested in catering a reception. Chances are they will be. Most food trucks today can be looked up online and contacted by either email or phone. Of course, if there's one you're already familiar with you can always ask them in person next time you see them.
You'll need to figure out how many food trucks you'll need. Food trucks can usually serve anywhere from 75 to 100 guests, depending on what it is they're serving. So, if you're planning a reception with more than 100 guests, you'll need more than one food truck. You might also want to consider one truck serving the main course and another serving dessert items.
How Much Does Food Truck Catering Cost?
Costs vary depending on the cuisine and how demand there is for the food truck. A big factor can be the date you want to hire the food truck. For instance, if you want a food truck at a Milwaukee wedding reception taking place the same day as Summerfest, the food truck may hike their catering price because they're losing out on a lot of business they would get at Summerfest.
According to foodrevolt.com ("The Insider's Guide to a Food Truck Wedding"), it's usually possible to negotiate with food truck operators. In one article on the site, they say a price of around $20 per guest is pretty common. When you compare this to the average cost of $65 per guest for a catered reception, the savings are enormous.
To get you started, here are some links for more info on food trucks in the areas where we rent wedding tents:
Related Articles:
Madison Party Rental serves the Madison area and surrounding cities, including:

Cottage Grove, Dane, Deerfield, Dodgeville, Cambridge, Fitchburg, Fort Atkinson, Janesville, Kegonsa, Lake Mills, Middleton, Mt. Horeb, McFarland, New Glarus, Pine Bluff, Spring Green, Stoughton, Sun Prairie, Oregon, Paoli, Verona, Vermont, Waterloo, Waunakee, Whitewater, Wisconsin Dells

Brookfield Party Rental serves the greater Milwaukee area, including:

Brookfield, Bayview, Brown Deer, Delafield, Elm Grove, Fox Point, Franklin, Germantown, Glendale, Grafton, Greendale, Hales Corners, Lannon, Menomonee Falls, Mequon, New Berlin, Oconomowoc, Pewaukee, Port Washington, River Hills, St. Francis, Shorewood, Sussex, Wauwatosa, Whitefish Bay