Chair Rentals for Wisconsin Weddings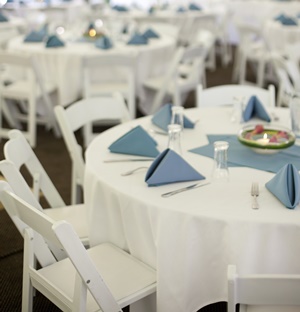 Along with food and drink, chairs are one of those necessities humans cannot do without. As far back as the 13th century BC, man has used chairs. They've even been found in the tomb of Tutankhamun, apparently placed there so he wouldn't have to spend the afterlife on his feet.
When it comes to weddings, chairs are just as important. No one wants to stand around for hours on end. Especially in heels.
Rent chairs for wedding ceremonies and receptions.
With a small enough gathering, you might be able to get by using your kitchen and dining room chairs, some ottomans and maybe those old card table chairs in the basement, but let's face it—it's going to look awful. And if you're planning a big wedding reception, you're going to need proper chairs.
As you may well imagine, you'll find those chairs at Madison Party Rental and Brookfield Party Rental.
Why are wedding chairs white, anyway?
| | |
| --- | --- |
| | |
| Queen Victoria, instigator of the white wedding. | |
The traditional color for seating, as well as wedding dresses, is white. You may wonder how white become so strongly associated with weddings? We can thank Queen Victoria for that.
Prior to Queen Victoria's wedding, red gowns were the most popular color for wedding dresses, but blue, yellow, and even black and grey were also popular choices. This all changed when Queen Victoria chose a white lace dress for her wedding to Prince Albert in 1840. It spawned a wedding fashion revolution among the upper crust of Victorian England.
Soon, every bride in England wanted a white gown--and not just the elite of British society. As you can imagine, the custom quickly spread to the United States. Today, the "white wedding" is practically embedded in our subconscious minds. White gown, white cake, white tablecloths, white limousine, white garter belt...
And, yes, even white chairs.
Back on the subject of chairs: we have 4 types of white chairs available for wedding reception rentals. Here's an overview of your options:
Chair Rentals for Weddings
| | | |
| --- | --- | --- |
| | | |
| White resin chair. This is the classic look for seating at a wedding, rendered in a lustrous, molded resin and fitted with a lightly padded seat. Lightweight, yet sturdy, these chairs are easy to set up and move around. Probably our most popular chair rental for weddings, and for good reason. They look great, are easy to set up and can support up to 400 lbs. | White folding metal chair. Similar to the white fanback chair, but without the decorative fan slats in the seatrest, this folding metal chair is a popular choice for both indoor and outdoor weddings. The seat back and seat are molded plastic Like the fanback chair, this chair also has rubber covers on the feet, making it a good choice for indoor weddings. | White resin Bistro chair. This is the only non-folding chair in our inventory. Inspired by the metal bistro chairs at sidewalk cafes all over Europe, it's a great choice for those who aren't constrained by tradition. They're comfortable to sit in and their light weight makes them easy to set up and move around. When your event is over, just stack them up for pickup. |
Rent chairs online, over the phone, or in person
Most of our customers rent a wedding tent package, which includes chairs and tables. If you're hosting your reception indoors and don't need a tent, you can call or email us to request a quote on the number of chairs you need. You can also visit any of our three rental locations to order and pick up rental chairs for your event. If you don't have a vehicle large enough to carry all the chairs you're renting, you can arrange for delivery. For large orders, there is no additional charge for delivery.
Not to be too presumptuous, but if you're looking to rent chairs you're probably going to be looking to rent tables, too. Why not browse our inventory of rental tables?
Quick Links to Our Event Rental Packages:
Contact the Location Nearest You for More Information on Chair Rentals or to Place an Order:
Madison Party Rental serves the Madison area and surrounding cities, including:

Cottage Grove, Dane, Deerfield, Dodgeville, Cambridge, Fitchburg, Fort Atkinson, Janesville, Kegonsa, Lake Mills, Middleton, Mt. Horeb, McFarland, New Glarus, Pine Bluff, Spring Green, Stoughton, Sun Prairie, Oregon, Paoli, Verona, Vermont, Waterloo, Waunakee, Whitewater, Wisconsin Dells

Brookfield Party Rental serves the greater Milwaukee area, including:

Brookfield, Bayview, Brown Deer, Delafield, Elm Grove, Fox Point, Franklin, Germantown, Glendale, Grafton, Greendale, Hales Corners, Lannon, Menomonee Falls, Mequon, New Berlin, Oconomowoc, Pewaukee, Port Washington, River Hills, St. Francis, Shorewood, Sussex, Wauwatosa, Whitefish Bay
Related Articles: