Pole Tent vs. Frame Tent: Which Is Best For Your Event?
Planning an event and need to rent a party tent? If you're new to this, which we will assume is the case, you'll quickly come across the frame tent versus pole tent dilemma. For anyone stuck on which type of tent to choose, this overview of the pros and cons for pole tents and frame tents may help sort it out for you and get you closer to making a final decision.
Pole Tent Pros and Cons
A pole tent is a tent canopy supported by tall poles which hold up the center of the tent and shorter poles around the perimeter of the tent. The tent is secured in place with anchor ropes and stakes. Pole tents are also known as Tension tents, due to the canopy being tensioned over the support poles.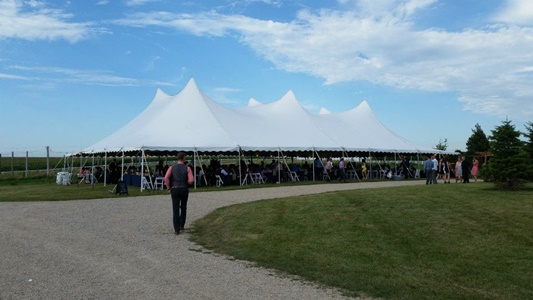 The soaring peaks of pole tents create a high-ceilinged, airy space under the tent and a storybook appearance from the outside.
Pro: Pole tents are generally considered to be more attractive, due to the high ceiling interior created by the tall poles holding up the canopy. The high peaks of a pole tent also look nicer from outside the tent.
Pro: Pole tents are less expensive to rent than a comparably sized frame tent. It's not a huge savings, but if you're watching every dollar it may well be worth it.
Pro: Pole tents take less time to set up than frame tents.
Con: The support poles in the center of the tent obstruct the interior space. You need to plan your seating and dance floor arrangement around these support poles.
Con: Pole tents have to be staked in the ground, which requires an average of 5 to 8 additional feet on each side of the tent for the ropes and stakes.
Con: Since the stakes for pole tents need to be driven into the ground, pole tents are almost always set up on grass. Although we can drive stakes into asphalt, this will leave holes that will need to be filled.
Frame Tent Pros and Cons
A frame tent consists of a tent canopy stretched over an aluminum frame and support legs around the perimeter of the tent. Although frame tents are free-standing, they are often secured with weights or even anchor ropes when on grass.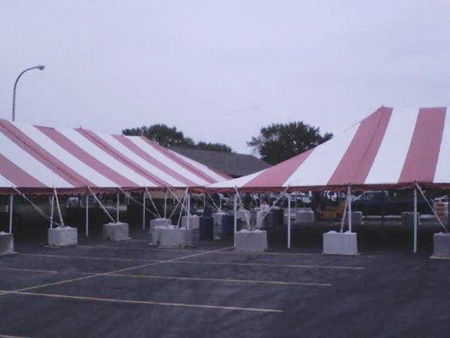 These frame tents are secured against heavy wind with sandbags in boxes.
Pro: A frame tent can be set up on almost any surface. Although we like to use anchor ropes to ensure the tent is stable, a frame tent can be weighted with sandbags or barrels filled with water if it's not possible or practical to use anchor ropes.
Pro: No center poles to obstruct your space! You're free to plan the interior space any way you want. This really is the biggest benefit of a frame tent.
Pro: If you need a tent that will stay up for a week or two, a frame tent is a much better choice since it isn't dependent on anchor ropes tensioning the canopy.
Pro: A frame tent can be set up right against a house or other building.
Con: The support frame is visible when you look up at the interior of the tent. For formal events like wedding receptions, the solution is to dress up the ceiling area with a liner. This gets expensive, though. We recommend colored LED PAR lighting as a far more cost-effective way to make a frame tent more appealing inside.
Con: Frame tent rentals generally cost more than pole tents. It's not a huge upcharge, but if you're watching every dollar it's something to keep in mind.
Con: It takes longer to set up and take down a frame tent.
Can't Decide Between A Frame Tent and A Pole Tent?
Still not sure which style of tent is going to work better for you? Perhaps we can help. If you can provide us some information on the type of event you're planning and how many guests you'll be hosting, we give you our recommendation. Feel free to contact us at the location nearest you.
Quick Links to Our Event Tent Rental Packages:
Know how many guests will be attending your event? Know which type of tent you prefer? Consider one of our tent rental packages. Each package includes the essentials (like tables and chairs) and is sized for the number of guests in attendance. Choose the one best suited to your event, then add on any extras you may want.
Madison Party Rental serves the Madison area and surrounding cities, including:

Cottage Grove, Dane, Deerfield, Dodgeville, Cambridge, Fitchburg, Fort Atkinson, Janesville, Kegonsa, Lake Mills, Middleton, Mt. Horeb, McFarland, New Glarus, Pine Bluff, Spring Green, Stoughton, Sun Prairie, Oregon, Paoli, Verona, Vermont, Waterloo, Waunakee, Whitewater, Wisconsin Dells

Brookfield Party Rental serves the greater Milwaukee area, including:

Brookfield, Bayview, Brown Deer, Delafield, Elm Grove, Fox Point, Franklin, Germantown, Glendale, Grafton, Greendale, Hales Corners, Lannon, Menomonee Falls, Mequon, New Berlin, Oconomowoc, Pewaukee, Port Washington, River Hills, St. Francis, Shorewood, Sussex, Wauwatosa, Whitefish Bay