A Parent's Guide to Renting a Bounce House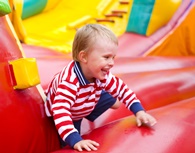 If you've ever taken your child to a fair, you know well the appeal of the bounce house. Chances are you've stood outside these inflatable pods on more than one occasion, nervously watching your child bounce around inside with other children.
Now here you are, planning a special party for your child(ren) and looking into renting a bounce house. You've come to the right place! Besides tent rentals for every size event (including backyard birthday parties!), we also rent bounce houses, pony hops and obstacle course inflatables.
We get a lot of calls and emails from parents looking for information on renting an inflatable, so we've compiled here the most commonly asked questions. Without further ado, here they are:
How old should a child be to safely bounce in an inflatable?
The general recommendation is no younger than 3 years of age. However, we highly recommend children only bounce with other children of their own age and size. Mixing 4-year-olds with 12-year-olds rarely ever ends well. Incidentally, most bounce house makers recommend 13 as the upper limit on who can bounce.
What keeps a bounce house inflated?
An air compressor is used to inflate a bounce house and to keep it inflated. Rental of a bounce house includes the air compressor and generator required to keep it inflated. A tank of gas will keep the generator running for several hours—which is likely more than enough time for a backyard party.
Do I have to set up the bounce house?
No, we handle the delivery and setup of the bounce house. When your party is over, we come back to pack up the bounce house and take it back to our warehouse.
Do children have to remove their shoes to go in the bounce house?
Yes, absolutely. Besides marking up the inside of the bounce house, shoes can also cause injury to other children. There should be an adult monitoring the inflatable to make sure all children entering it have their shoes off. It's also a good idea to monitor the bounce house just to make sure things don't get out of control. We recommend adults at the party take turns monitoring the bounce house activity.
Can grown-ups go in the bounce house, too?
It's tempting, we know, but most bounce houses just are not built to withstand a bunch of adults jumping around inside.
It's an especially bad idea for adults to bounce around inside a bounce house with small children inside. Because adults are considerably heavier than children, the children end up being catapulted upward when an adult lands inside a bounce house. A collision between an adult and a child is also highly likely, with the child taking the brunt of the injury.
So, please, don't bounce with your child inside the bounce house. It's ok for an adult to accompany a nervous child into the bounce house as long as you are not bouncing, too. Just make sure you remove your shoes.
What size bounce house should I rent?
It all depends on how many bouncers you anticipate having at your party. Our 12' by 12' Castle Bounce can accommodate up to 15 children at a time. The larger 15' by 15' bounce houses (Castle Bounce and Crayon Bounce) can safely hold 20 bouncers at a time. All our bounce houses have a capacity label on them, so whoever you have monitoring the bounce house should also be monitoring how many children are in the bounce house.
Not sure you have room for a bounce house? Consider an inflatable, 3D Twister game (15' by 15'), or get the party hopping with a set of 12 inflatable Pony Hops.

You WILL Need an Adult to Monitor the Bounce House
To ensure the safety of your children, you really need to have a designated monitor watching the bounce house at all times. They do this at every fair. The monitor's responsibilities include:
Making sure there aren't too many children in the bounce house at one time
Making sure every child entering the bounce house has his/her shoes off
Making sure no food, drinks or toys with sharp edges are brought into the bounce house
Making sure no one in the bounce houses gets carried away (No body slams, somersaults or flips.)
Making sure bigger kids aren't bouncing with little kids
The Best Place to Rent a Bounce House in Wisconsin? Right Here!
With rental locations in Madison, Milwaukee and Appleton, we cover most of southeastern Wisconsin. Rental includes the generator and air compressor necessary to keep the inflatable inflated, as well as setup and takedown. View our bounce house and inflatables inventory online, and feel free to contact us if you have any questions.
Need to Rent a Party Tent for Your Child's Party?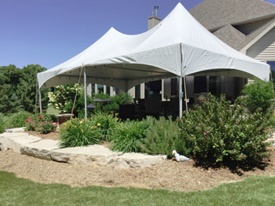 Again, you're in the right place. We have tents of every size, from small 10' by 10' frame tents that work great over a deck or patio to large pole tents suitable for fairs and big weddings. You can rent a tent by itself, but you can also rent a package that includes tables and chairs.
For a small-ish backyard party, we'd recommend checking out our 20' x 20' free-standing frame tent rental package. This package includes:
One 20' x 20' High Peak frame tent (includes weighting or staking)
Six 8' banquet tables with white banquet linens
48 black folding chairs
Delivery is included in the rental fee. You will be responsible for setting up the chairs and tables, unless arrangements are made with us prior to delivery.
For more information, contact us at the location nearest you:
Madison Party Rental serves the Madison area and surrounding cities, including:

Cottage Grove, Dane, Deerfield, Dodgeville, Cambridge, Fitchburg, Fort Atkinson, Janesville, Kegonsa, Lake Mills, Middleton, Mt. Horeb, McFarland, New Glarus, Pine Bluff, Spring Green, Stoughton, Sun Prairie, Oregon, Paoli, Verona, Vermont, Waterloo, Waunakee, Whitewater, Wisconsin Dells

Brookfield Party Rental serves the greater Milwaukee area, including:

Brookfield, Bayview, Brown Deer, Delafield, Elm Grove, Fox Point, Franklin, Germantown, Glendale, Grafton, Greendale, Hales Corners, Lannon, Menomonee Falls, Mequon, New Berlin, Oconomowoc, Pewaukee, Port Washington, River Hills, St. Francis, Shorewood, Sussex, Wauwatosa, Whitefish Bay