Brookfield Church Festival Tent Interior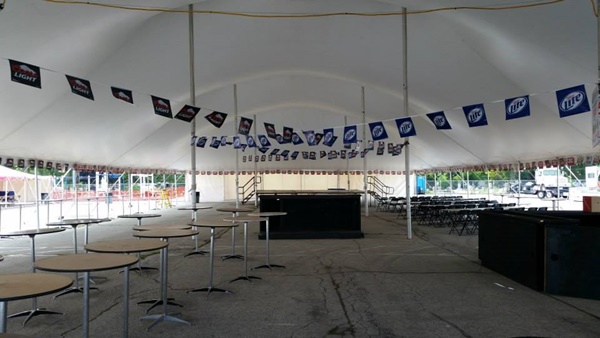 Brookfield Parish Festival Tent Interior
This photo was taken under a large (40'x100') party tent we set up for a parish festival in Brookfield. This was the event's main tent, where they had bands playing and served food and beverages.
One of the nice things about a large, tension style tent like this is how open the interior is. Other than the long poles you see holding up the center of the tent, there is nothing to interrupt the space. However, these tents do require guy wires along the outside of the tent to secure it in place. You need at least 6 feet of clearance on all sides to secure the guy wires.
For this event, we also provided the cocktail tables you see to the left, the bar to the right, the folding chairs, and the stage in the background (including the handrails on either side of the stage). Point is, whatever type of event you are planning, and whatever size your event, Brookfield Party Rental can provide everything you might possibly need.
Looking to rent a large outdoor event tent? Check our Wisconsin tent rentals page to get a better idea of the range of tents we offer. If you have any questions at all, you can contact us via email from this website or call the store location nearest you.