Delafield Tent Rental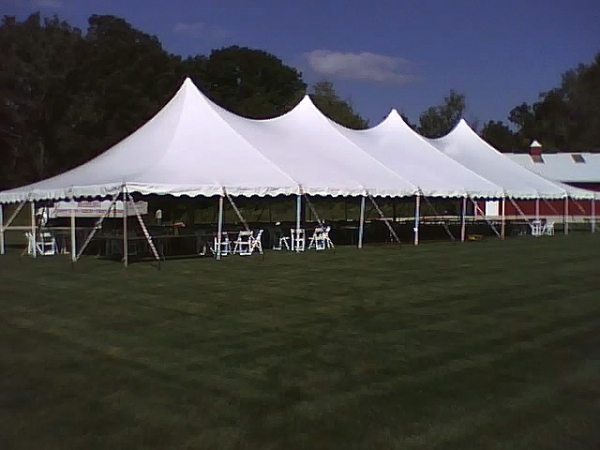 40x100 Frame Tent
Party Tent Rental For Delafield Company Outing
Here's a snapshot of a large 40 x 100 tent we set up for a company outing on a summer afternoon. It's a little hard to see, but under the tent are banquet tables and chairs, with several white folding wooden chairs along the perimeter of the tent. (If you're interested in renting chairs or other equipment, check out our event rental products page.)
During warm weather months, we rent tension style tents like this for all manner of events. We probably do more wedding reception tent rentals than anything else, but we also have a steady stream of festival tent rentals as well as tent rentals for corporate outings and parties. These tents are available in sizes suitable for anywhere from 50 guests to 200. We set them up and take them down for you, ensuring a hassle-free event tent rental experience.
If you're not quite sure what size tent you will need for your event, head over to our Planning Guide section. This will help you decide on a just right tent size for your event. We also offer event tent rental packages for wedding receptions, graduation parties and "build your own" parties.
Whatever type or size of party tent you need, we have it—along with all the tables and chairs, flatware, catering equipment, bouncy houses and everything else you need to make your event a smashing success.
Contact our party tent rental experts today for more information on our rentals.