Hindu Wedding Ceremony Tent Rental Pewaukee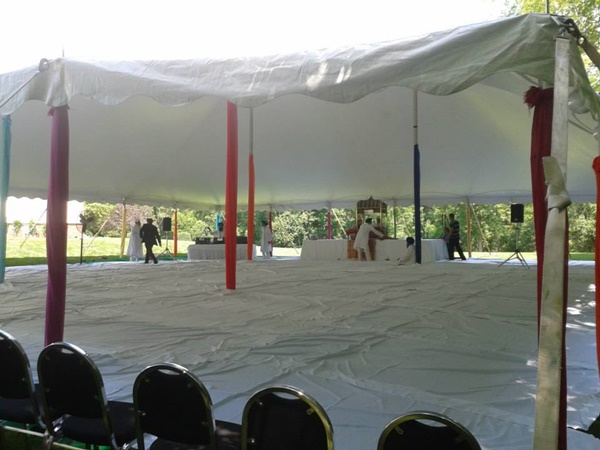 Hindu Wedding Ceremony Tent Rental Pewaukee
Here's a pole tent we set up for a Hindu wedding ceremony. As you can see, the support poles for the tent were wrapped in red fabric—red being one of the traditional colors at a Hindu wedding. You'll also notice the white fabric covering the ground. Since shoes are not permitted to be worn during the ceremony, the couple rented table linens to cover the ground.
Since this was a large wedding, with many non-Hindu guests, our Brookfield Party Rental location also provided the banquet tables and the loudspeakers you see in the background, as well as the chairs you see outside the tent. Guests inside the tent sat on the ground, as is done in traditional Hindu ceremonies. As you might imagine, we did not provide the agni, the holy fire around which the bride and groom walk as part of the ceremony.
Our Brookfield Party Rental store has set up wedding tents for all kinds of weddings, both large and small, throughout all of southeastern Wisconsin. If you're planning any kind of outdoor wedding, take a look at our wedding packages. These include the basics—the tent, tables and chairs—based on how many guests you'll be inviting. From there, you can add on any extras you may want (such as table linens, a dance floor, or food and beverage service equipment).
Contact Brookfield Party Rental associates with any questions you have about renting a wedding tent.