Madison Graduation Party Tent Rental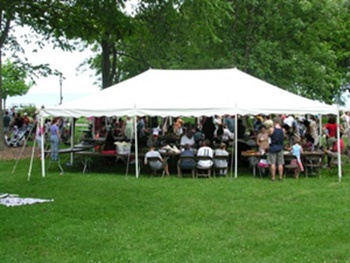 Madison Graduation Party Tent Rental
Every June, a new wave of high school and college graduates toss their tasseled caps into the air and start thinking seriously about the future. Or at least about the graduation party they'll be having in a few weeks.
Thankfully, Madison Party Rental has everything necessary to make the graduation party ritual a roaring success. Perfect example: the graduates and their families in the photo above. Frame tents like this are great for smaller gatherings because there are no support poles to interrupt the space under the tent. Instead, the outside poles and an internal frame support the tent.
Besides renting tents for parties, wedding receptions and outdoor festivities of all types throughout the Madison area, we also rent tables and chairs, food service equipment, and other essentials most outdoor party tent events require.
Contact our Madison party tent rental pros to reserve a party tent for your Madison graduation party or other event.