Mt. Horeb Event Tent Rental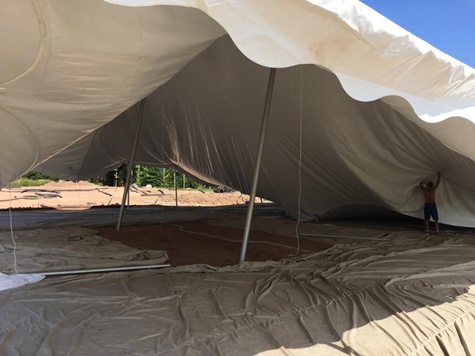 Mt. Horeb Event Tent Rental Setup
Here's a view you rarely see unless you're on our setup crew. You're looking at a 60' by 100' pole tent being set up. The two metal poles you see are the support poles upon which the tent will be tensioned.
We set up this tent for a wedding on a farm in Mt. Horeb. That's the great thing about hosting your reception in a party tent--you can have it just about anywhere! Outdoor tent events also tend to be much less stuffy than events held in a rented reception hall. People just seem more relaxed, and kids in attendance are able to have fun playing near the tent. Of course, whatever you need for your event, our Madison Party Rental store has it--from chairs and tables to bounce houses and generators.
Are you thinking about having your reception or other event under a party tent? Congratulations for thinking outside the box! We're here to help you with any questions you may have about planning for your event. Just let us know how we can be of assistance.
Contact our Madison Party Rental store with your questions.