Pole Tent For Sun Prairie Wedding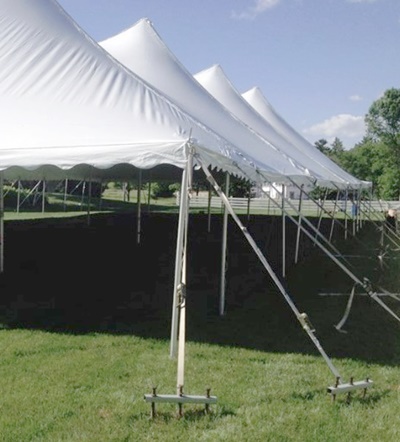 Pole Tent Rental For Sun Prairie Wedding
This wedding took place at a small horse farm in Sun Prairie, a beautiful location made even better with a beautiful day...and did we mention the sweet pole tent?
This photo shows why you need to have 6 feet of clearance around the perimeter of a pole tent. The anchor lines you see here maintain tension on the canopy of the tent. This is why pole tents are also known as "tension style tents."
The advantage of a pole tent is the spacious feel you have with a 30' ceiling height. The soaring ceiling is also helpful to disperse heat inside the tent on a hot day. The only drawback is that you have the support poles interrupting your interior space. It's easy to work around this, though, and all our customers feel the dramatic ceiling height is well worth it.
If you prefer a tent with no obstructions inside, you might prefer to rent a frame tent. Unlike pole tents, there are no obstructions inside a frame tent. The tradeoff is you don't have the high ceiling of a pole tent and the metal support structure of the frame tent is visible. However, frame tents don't need the anchoring required with pole tents. We can usually secure a frame tent with plastic barrels full of water or sand.
Have questions, or need input on what type of tent to rent? Contact the rental store nearest you:
Madison Party Rental, 608-221-3866
Brookfield Party Rental, 262-786-2666
Fox Cities Party Rental, 920-733-1166