Pole Tent Setup New Berlin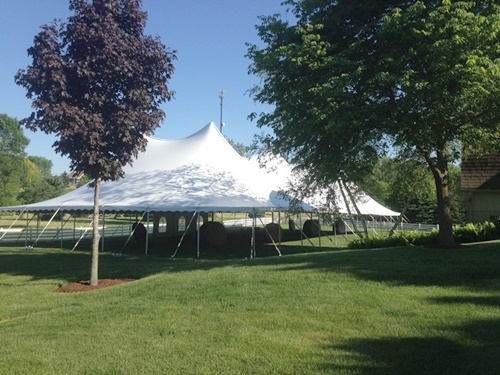 Pole Tent Set Up For Wedding Reception In New Berlin
Talk about a beautiful location for a wedding reception! We set up this 40 x 100 pole tent for a wedding reception in the backyard of the bride's parents' house in New Berlin.
As you can see from the dual peaks and the anchor ropes around the perimeter, this is the classic pole tent. If you look really close, you'll see a side panel on the side of the tent facing the fenced in horseback riding ring. This served as a backdrop for a small stage area where a band was to play.
If you're wondering what the round things under the tent are, they're round dining tables sitting on their sides. When you rent dining tables from us, we set up the tent for you and put the tables and chairs under the tent. Then you (and a few helpers) set them up however you like. If you're not able or willing to do this, it can be arranged to have us set them up for you at an additional charge.
Any Event, We've Got Your Tent
Whether you're interested in a pole tent like this one, or looking to rent a frame tent for your outdoor event, we have something for every size crowd—even small, backyard events with family and friends. And unlike some event tent rental companies, we also have everything else you might need: china, flatware, glassware, food service equipment, linens, bounce houses, concession foods equipment, fans, heaters and generators….oh, and more.
Planning a party tent event? Contact Brookfield Party Rental with any questions you may have.