Wedding Tent and Chair Rental Pewaukee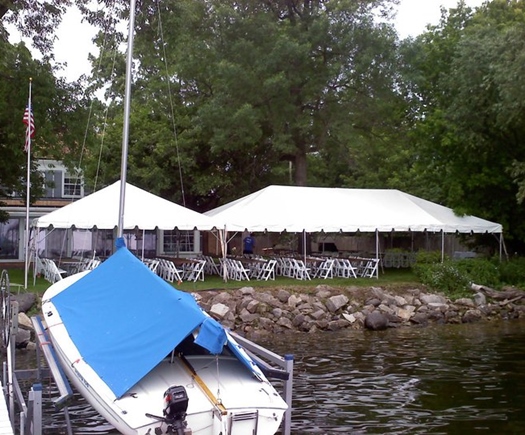 Wedding tent and chair rental Pewaukee
We set up these two frame tents for a wedding reception behind the bride's parents' house on Pewaukee Lake. Although much of the area where the dinner was to be held was under a canopy of trees, the family wisely decided to rent tents in case the weather didn't cooperate. This is Wisconsin, after all. Turned out to be a good decision, because the grey clouds overhead let loose a downpour in the afternoon.
This is a perfect example of a situation where frame tents work better than pole tents. With limited space on either side of the tent, anchoring a pole tent with ropes and stakes extending 6' on all sides of the tent just wasn't practical. Low hanging tree branches would have also presented a problem for the soaring peaks of a pole tent. So, this was a site that screamed for a frame tent.
Even if you're lucky enough to not have rain on the day of your event, it's a good idea to have a tent for shelter from the sun. A party tent also helps keep everyone in one place. When an event is held al fresco without a tent, there's tendency for guests to spread out and to split into different cliques. No one wanders outside of a party tent to hang out away from everyone else.
Planning a reception or other event? Our Wisconsin event rental stores have everything you'll need for a memorable day.
Contact our Brookfield Party Rental location for information or assistance with renting a tent for your event.