Wedding Tent Rental Pewaukee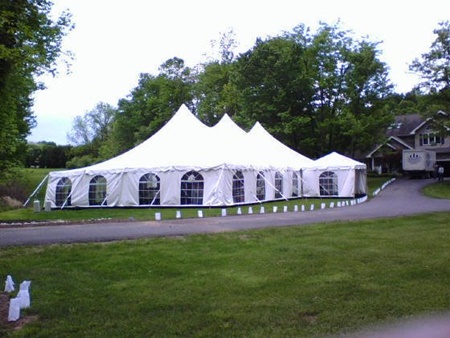 Pewaukee Wedding Tent Rental
Whenever we see this photo from a wedding tent setup we did for a family in Pewaukee, it feels like such a fairytale setting for a wedding party. The beautiful grounds of this home were plenty large enough for a 40 x 80 pole tent. The windowed sidewalls, the separate 10 x 10 entryway tent, and the line of luminaries along the driveway gave this setup a wonderful atmosphere.
Whether you're planning a large wedding reception like this or something smaller, our Brookfield Party Rental store has just the right size of tent for your event. Besides large pole tents like the one shown here, we also rent frame tents (smaller than pole tents) and compact canopy tents you can set up yourself with the help of a friend.
If you're unsure what size tent you'll need, check out our online party planning guide. We also offer a number of wedding party packages based on the number of guests you'll be hosting. If these resources don't help you sort it all out, just give us a call at our Brookfield Party Rental location and we'll be glad to help out.