Anniversary Party Table and Chair Rental in Johnson Creek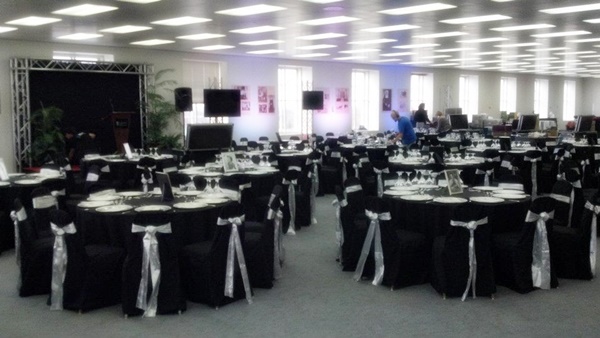 An Anniversary Party Extravaganza in Johnson Creek
Madison Party Rental supplied the 60" round tables you see here, as well as the chinaware and silverware. Although hard to see in this photo, there's also a small stage we set up for this anniversary party in Johnson Creek.
Maybe you're scratching your head over photographic evidence clearly showing this event was held in a building, not a tent. While it's true we're best known for our event tent rentals, there are plenty of events that don't involve party tents but do involve tables and chairs, china, stages, dance floors, food service equipment, A/V equipment and hundreds of other rental items—all of which we carry, of course.
Are you planning an event that's going to require, say, 300 chairs and about 60 tables? We can definitely help. Besides our Madison location, we're also in Brookfield (just outside Milwaukee). Contact the location nearest you when you're ready to party.
Madison Party Rental, 608-221-3866
Brookfield Party Rental, 262-786-2666
Madison Party Rental can help you throw the perfect anniversary party. From anniversary halls, party rooms, and anniversary hall extravaganzas, find what you need right here. Anniversaries are a special occasion, make it count with the rental supplies from Mad Fox Party.