It's Official, The Color of the Year for 2018 is Ultra Violet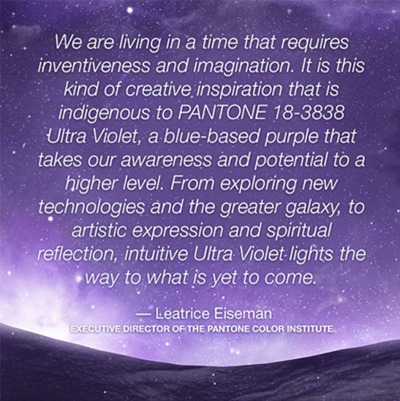 Pantone, those purveyors of color swatch books, has named its 2018 color of the year: Ultra Violet (aka Pantone 18-3838). It's basically a blue-ish purple color--not Barney the dinosaur purple, thankfully. It's more of a deep space purple.
As Pantone describes it, "Ultra Violet suggests the mysteries of the cosmos, the intrigue of what lies ahead, and the discoveries beyond where we are now. The vast and limitless night sky is symbolic of what is possible and continues to inspire the desire to pursue a world beyond our own."
Whoa! Sounds like Pantone may have spent too many nights looking in their telescope. Funny thing is, this blue/purple color is a longtime favorite of many lighting designers. It looks especially good when lights at the foot of a tent project this color onto the ceiling of the tent.
Wait, What Does Pantone's Purple Have to Do With Party Tents?
Most people renting party tents are renting them for wedding ceremonies or receptions. As such, we keep an eye on everything pertinent to weddings, and colors are always a big concern when planning a wedding. Which, of course, begs the question:
Is The White Wedding Becoming a Quaint Anecdote?
White has been THE color of weddings since Queen Victoria's wedding to Prince Albert in 1840. At the time, brides would wear red, blue and even black gowns. But when Queen Victoria chose white for her nuptials, it started a fashion trend that went beyond the wedding gown to include everything from the cake served at weddings to the chairs guests sit on.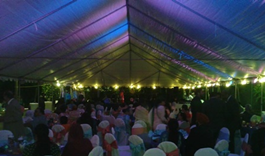 Amazingly, white is still the color for weddings and we don't see it becoming a footnote in the history of nuptials anytime soon. The great thing about a wedding tent (a white one) is how it can be decorated with colorful elements like tulle, balloons, paper flowers, table linens, and lighting.
Turn Your White Wedding Tent Purple
Our PAR LED lights are a great choice if you're looking to create an ambiance with lighting, and as you can see in the 2008 photo to the left, we were into Ultra-Violet long before it was a Pantone color of the year. Our PAR LED lights aren't limited to Pantone 18-3838, either. They can project a wide range of colors. Including the 2017 Pantone color of the year —Greenery.
Planning a Wedding? Consider a Wedding Tent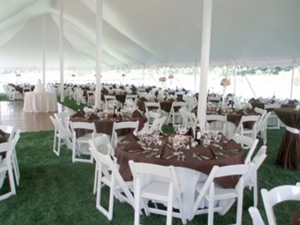 One of the many great things about having a wedding ceremony or reception in a tent instead of a banquet hall is the flexibility it offers for décor. If you like the idea of doing things your own way, you'll love having a wedding tent as your canvas.
There are other reasons to choose a wedding tent over a more conventional venue. Like being able to hold your celebration outdoors, without any deadline on when you and your guests have to vacate. Or decorating it with purple accents and lighting. There's also the cost to consider. In most cases, choosing a wedding tent over the typical indoor wedding rental will cost far less.
We offer several wedding tent rental packages that include the basics—tent, chairs and tables. They're all based on how many guests you'll have in attendance. Once you have a tent package picked out, you can add on additional rentals as needed (such as wedding décor, food and beverage service equipment, etc.) You just add these to your tent rental package before checking out.
Madison Party Rental serves the Madison area and surrounding cities, including:

Cottage Grove, Dane, Deerfield, Dodgeville, Cambridge, Fitchburg, Fort Atkinson, Janesville, Kegonsa, Lake Mills, Middleton, Mt. Horeb, McFarland, New Glarus, Pine Bluff, Spring Green, Stoughton, Sun Prairie, Oregon, Paoli, Verona, Vermont, Waterloo, Waunakee, Whitewater, Wisconsin Dells

Brookfield Party Rental serves the greater Milwaukee area, including:

Brookfield, Bayview, Brown Deer, Delafield, Elm Grove, Fox Point, Franklin, Germantown, Glendale, Grafton, Greendale, Hales Corners, Lannon, Menomonee Falls, Mequon, New Berlin, Oconomowoc, Pewaukee, Port Washington, River Hills, St. Francis, Shorewood, Sussex, Wauwatosa, Whitefish Bay