Folding Chair Rental University of Wisconsin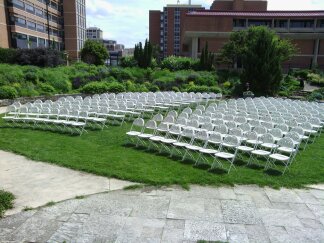 UW Wisconsin Chair Rental For Outdoor Concert
The University of Wisconsin contacted our Fox City Party Rental location when they needed a couple hundred chairs for an outdoor concert. Although it's a little hard to tell from the photo, they chose our white fanback folding chairs.
No matter what sort of event you are planning to host, our Brookfield, Madison and Appleton rental stores have virtually everything you may need. While most large events involve a party tent, you can also rent tables and chairs, bounce houses and all manner of equipment needed for an event without renting a party tent.
Of course, if you are hosting a large outdoor event, or even a small one, a party tent is an excellent idea. Not only does it provide shelter from the sun and unexpected rainstorms, it also creates a unique ambiance and immediately conveys that something important is taking place. We offer everything from small, folding canopy tents that you can set up yourself for backyard parties to large, tension style tents suitable for big events such as festivals and concerts.
To make the whole process simpler, we also offer rental packages for weddings, graduations and other occasions. These packages are based on the number of guests you plan to have at your event and include the basics: a tent, chairs and tables. From there, you can add whatever extras you may need for your event, such as catering equipment, a wedding arch, and so on.