Planning An Event? Pitch A Tent.
Tents have been around just about forever. While the earliest ones were little more than animal skins slung over branches to provide the most basic protection from the elements, tents have evolved into high-tech wonders capable of high altitude expeditions as well as extended residency in desert climes.
Following in the rather large footprints of the big top circus tent, today's party tents provide a unique ambiance and a cost-effective alternative to hosting an event in a building. Equipped with heaters in winter or fans in the warmer months, event tents can also be surprisingly comfortable.
Whether you're planning a big event or a small get-together, our Brookfield and Madison Party Rental stores offer a huge variety of tent sizes and styles, as well as all other things you may need for your event.
Three Reasons to Consider Renting A Party Tent For Your Event
#1 With a tent, you can hold your wedding reception or party in any venue you like -- a botanical garden, sandy beach, or your own backyard. Obviously, you'll need to secure permission to hold your event on property you don't own, and in many cities you'll also need a permit to have an event tent set up. Don't worry, we can help you sort through the legalities.
#2 A tent provides an ambiance unlike any indoor venue. With a party tent, there's a certain festive air to any event. Guests make a subliminal connection to outdoor festivals and fond childhood memories of trips to the circus. Even though it may be a dress-up event, everyone seems to be noticeably more relaxed in the more casual environment of a tent.
#3 The cost of hosting an event in a party tent is usually significantly less than what it would cost to hold it in a building. While this is certainly a welcome benefit by anyone hosting an event, it's rarely ever the primary motivating reason. Still, it's a valid one—particularly for events with a tight budget.
The Three Types of Tents: Pole, Frame and Canopy
Pole Tents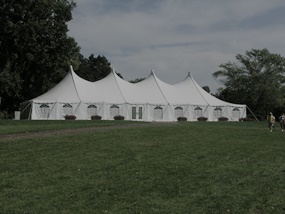 Pole tents are the classic, large party tent. The high center poles that support the tent fabric form soaring peaks on the tent. On the perimeter of the tent are shorter support poles which are secured by guy wires extending from the edge of the tent canopy to stakes in the ground. With pole tents, you need about 8' of clearance on all sides for the ropes and stakes—something to keep in mind when determining where you want your tent to be set up.
Pole tents are typically 30 to 40' wide and can extend over 100.' If your event requires more space, two or more pole tents can be connected to form an even larger tent. Planning an event for a cooler weather month? You can order sidewalls (with or without windows) to protect against wind and cold, as well as a propane heater for your tent.
Pole tents are also known as tension style tents, due to the fact the tent material is tensioned over the top of the poles. You can learn more about pole tents in our Products pages, and also view photos of different sized pole tents in different settings.
Frame tents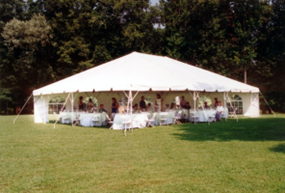 Frame tents have a roofline similar to the typical house. The canopy is supported by a framework of metal pipes. Although frame tents don't have the soaring ceiling height of pole tents, they offer an interior unobstructed by support poles. Additionally, the metal framework provides a convenient and secure place to hang lighting or decorations.
In most settings, frame tents will also need to be secured to the ground. Often, we can use sandbag weighted barrels or a similar securing method instead of anchoring ropes to stakes. This is a preferred method in settings where a paved area cannot be drilled for stakes. Without requiring an additional 8' on all sides for staking, frame tents can fit into more confined spaces than pole tents.
As with pole tents, frame tents can be set up with sidewalls to provide protection against cold winds. We don't recommend sidewalls for warmer weather months, however, as they will increase the temperature inside the tent to unbearable levels. View examples of frame tent rentals we offer.
Canopy Tents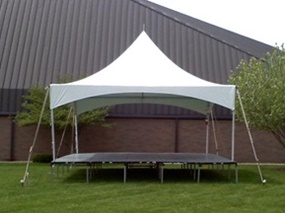 Canopy tents are typically used for smaller events, such as the backyard graduation party or for kiosks at outdoor events. These tents can usually be put up by the person renting them, with an assistant or two. If you're considering one of these for your party, bear in mind that you'll need a vehicle large enough to carry the unassembled tent, such as a large SUV or a pickup truck.
The great thing about canopy tents is that you can set up two or more of them side by side to create a larger tented area. Choosing canopy tents of different sizes, then setting them up next to each other creates a visually interesting tent space with the different areas defined by the space. And, as you can see in the photo to the right, a canopy tent is a must have if you're planning on having a band perform at your event. Having a sheltered place for the band and their equipment is essential, particularly if the weather outlook is sketchy the day of your event.
Think a canopy tent will work out perfectly for your event? Learn more about our canopy tent rentals online, then contact us with any questions you may have.
Party Tent Rental Packages: A Great Place To Start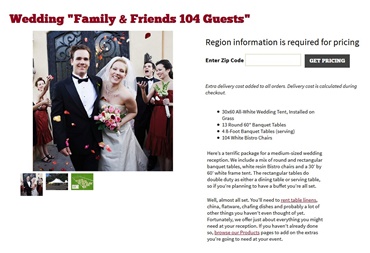 If you know how many guests you'll have at your event, consider renting one of our party packages. These packages have the basic things you'll need for any size event: namely, an appropriately sized tent, tables and chairs. From there you can rent table linens, catering equipment, wedding décor and whatever else you may need.
Party Tent Rental Packages:
For more information or to request a quote, contact us at the location nearest you:
Madison Party Rental serves the Madison area and surrounding cities, including:

Cottage Grove, Dane, Deerfield, Dodgeville, Cambridge, Fitchburg, Fort Atkinson, Janesville, Kegonsa, Lake Mills, Middleton, Mt. Horeb, McFarland, New Glarus, Pine Bluff, Spring Green, Stoughton, Sun Prairie, Oregon, Paoli, Verona, Vermont, Waterloo, Waunakee, Whitewater, Wisconsin Dells

Brookfield Party Rental serves the greater Milwaukee area, including:

Brookfield, Bayview, Brown Deer, Delafield, Elm Grove, Fox Point, Franklin, Germantown, Glendale, Grafton, Greendale, Hales Corners, Lannon, Menomonee Falls, Mequon, New Berlin, Oconomowoc, Pewaukee, Port Washington, River Hills, St. Francis, Shorewood, Sussex, Wauwatosa, Whitefish Bay