Table Rentals For Wisconsin Wedding Receptions and Events of All Type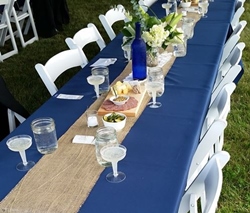 If you're planning an event, especially one involving dining, you're going to need tables (and chairs). No worries, we have plenty. The hard part is figuring out how many you're going to need. The larger the event, the harder this gets. This is especially so with wedding receptions, where tables are needed for more than just guests.
Everything You Always Wanted to Know About Renting Tables, But Never Thought to Ask
We've compiled this guide to help make this part of the planning process a little easier. For starters, there are two types of tables used for seating: the rectangular "banquet" table and the round table. If you're planning a large event and need to maximize use of your space, banquet tables are the way to go. If you have plenty of room and favor a less structured looking space, we'd recommend round tables.
What If You Just Need a Few Tables for a Holiday Party?
No problem. We often rent one or two tables (and chairs) for people who need extra seating space for a Thanksgiving, Christmas or New Years dinner. If you're renting a small quantity of tables and chairs, you can probably pick them up yourself if you have a wagon or SUV. We also offer delivery and pickup for an additional fee. This varies depending on your location, so check with us for a price on delivery.
Types of Tables We Rent
Round Dining Table

Three sizes:

48" round: Seats 5 to 7 guests

60" round: Seats 8 to 10 guests

72" round: Seats 10 to 12 guests
Setup tip: Diagonal Placement of round tables is the most efficient use of space. You will be able to fit more round tables in a given space if you set them up diagonally instead of in rows.
Rectangular Banquet Table

Three sizes:

4' x 30": Seats 4 to 6 guests

6' x 30": Seats 6 to 8 guests

8' x 30": seats 8 to 10 guests
Setup tip: If you're setting up banquet tables end to end, you can add an extra seating space for each "joint" of the tables. Since most people don't like sitting at the spot where two tables join, this should only be done if you have limited space. Similarly, don't seat guests at the end of your banquet tables unless you absolutely have to.
Serpentine Table

One size, 30" width.

Commonly used to connect banquet tables in a semi-circle or U-shape.
Cabaret (Hi-Boy)

Table

Height: 30" or 40"

Diameter: 30" or 36"
But What About Chairs?
Good question. You're definitely going to need chairs to go with whatever tables you choose. You can learn more about our most popular wedding reception chairs in another article, or you can browse our entire chair rental inventory online.
Planning Guide For Wedding Receptions
Wedding receptions are always more complicated than other events. Here's a rundown of all the tables you're likely to need for a wedding reception and some things to consider as you plan your reception.
Guest Tables
Do you want round or rectangular tables? How many guests will be seated at each table?

Head Table
How many people will be seated at the head table with you? We recommend allowing a minimum of 2 feet of space per person.

Bar Table or Bar
Rectangular banquet tables are often used for bars, usually when it's a self-serve type of bar. If you have a bartender serving mixed drinks, it's a good idea to have a proper bar setup.

Punch/Coffee Table
Most receptions have a table with self-serve punch and cups, or a coffee station for coffee, tea, cups, cream and sugar. We recommend a vinyl table cover for easy cleanup of spills. If you're leaving a coffeemaker at the table, you'll want to make sure this table is located near a power source.

Cocktail Tables
If you're serving cocktails, it's a good idea to have a few "Cabaret" tables (aka "Hi-Boy" tables) for people to stand around and rest their drinks on. Group these tables near the bar.

Cake Table
Most receptions have a table dedicated to the cake. Plates and forks are usually placed on this table, too.

Dessert Table
Make room for dessert! Almost all receptions have a separate table for desserts. Sometimes, the dessert table can be combined with a coffee station. In most cases, it's best to have a dedicated table for each.

Guest Book Table
You won't need a huge table for this. Something small and sturdy will do fine. We actually offer a guest book stand rental, although you can also use 30" Cabaret table or a 4' banquet table.

Memory Book Table
Memory books are becoming more popular than guest books, since they allow guests to write more personalized well wishes. Plan on having a couple of chairs nearby for guests who need a few minutes to dredge their memory banks before leaving a message.

Gift Table
You definitely need a table to hold the wedding gifts. Round or rectangular, your choice.

Buffet Tables
If you have a caterer for your reception, check with them to see what they recommend.

Caterer's Work Tables
Check with your caterer to see if they need tables for prepping the meal
Need a Hand With Those Tables?
If you're not entirely sure what how many tables you'll need, we'll be happy to help you sort it out. Just let us know how many guests you're expecting and what sort of event you're planning. You can contact us at the location nearest you.
Madison Party Rental serves the Madison area and surrounding cities, including:

Cottage Grove, Dane, Deerfield, Dodgeville, Cambridge, Fitchburg, Fort Atkinson, Janesville, Kegonsa, Lake Mills, Middleton, Mt. Horeb, McFarland, New Glarus, Pine Bluff, Spring Green, Stoughton, Sun Prairie, Oregon, Paoli, Verona, Vermont, Waterloo, Waunakee, Whitewater, Wisconsin Dells

Brookfield Party Rental serves the greater Milwaukee area, including:

Brookfield, Bayview, Brown Deer, Delafield, Elm Grove, Fox Point, Franklin, Germantown, Glendale, Grafton, Greendale, Hales Corners, Lannon, Menomonee Falls, Mequon, New Berlin, Oconomowoc, Pewaukee, Port Washington, River Hills, St. Francis, Shorewood, Sussex, Wauwatosa, Whitefish Bay