Wedding Reception In Oshkosh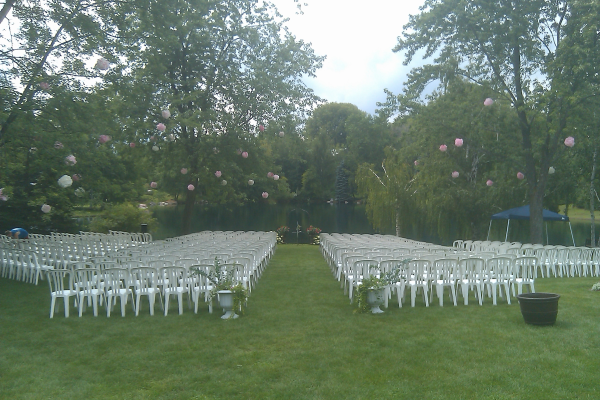 Chair and Canopy Tent Rental For Oshkosh Wedding
While most outdoor weddings involve a fairly good sized pole tent, some couples prefer to say their vows al fresco. We certainly can't argue with the gorgeous waterfront location this couple chose. And the blue canopy tent off to the right was a good idea—just large enough for bride, groom and master of ceremonies to huddle in the event of a sudden downpour.
Are you planning a wedding? We can provide everything you need to ensure your big day is everything you're dreaming it will be. Our first recommendation, though, would definitely be to rent an event tent large enough to accommodate your guests in case the weather doesn't cooperate. This is Wisconsin, after all.
In addition chairs, we also have a nice selection of wedding décor for rent such as the classic wedding arch, a wishing well (to be filled with the flood of cards you'll receive, not water), and pillars for displaying bouquets or unity candles.
Contact our wedding tent rental experts online for assistance with any questions you may have.