Event Tent Menasha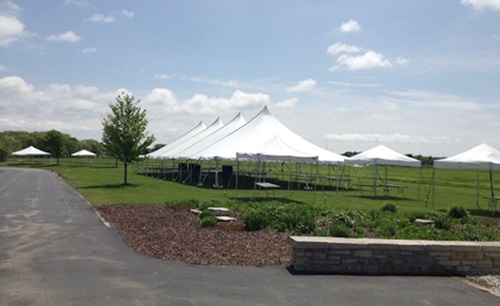 Menasha Party Tent Setup
It was a perfect day for an outdoor party, and our Appleton Party Rental location did a great job setting up this combo of pole tent (the big one), frame tents (the two in the background) and pop-up canopy tents (the three in the foreground to the right).
While pop-up tents aren't usually anchored down, you'll notice if you look carefully at this photo that these two pop-up tents have anchor ropes tethering them to the ground. This is because the event was help in an open area in the early spring, when winds tend to be pretty strong. To make sure the tents didn't blow over, we added the anchor ropes to secure them in place.
Whether you're looking to rent a tent for a wedding, a corporate picnic, a graduation party, or any other event large or small, our madfoxparty Rental locations have everything from 10 x 10 do-it-yourself canopy tents to massive 60' by 180' pole tents for big events.
Serving Appleton, Chilton, De Pere, Grand Chute, Green Bay, Greenville, Kimberly, Kaukauna, Little Chute, Menasha, Neenah, New London, Stockbridge, Winnebago, Winneconne, Wrightstown