Green Bay Winter Event Held In Party Tent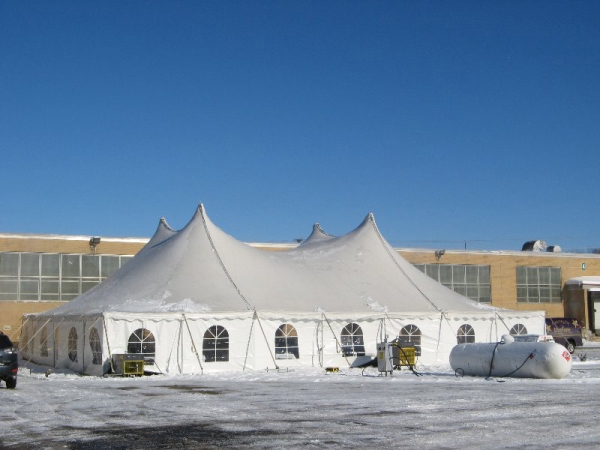 Green Bay Winter Tent Rental Warmed Up With Tent Heaters
You don't have to be out of your mind to have a tent event in the middle of a Green Bay winter. You just have to get a tent with sidewalls and a heater. Case in point: this large tension style party tent we provided for a Green Bay school fair. Thanks to two event tent heater rentals, no one lost so much as a baby toe to frostbite.
As you can see, this tent was set up in a parking lot. Yes, we're actually able to drive mounting stakes for the anchor ropes into the frozen tundra of asphalt parking lots, which makes a far better surface for a winter tent event than snow covered ground. The holes left by the stakes are about one inch in diameter and approximately 1-foot deep. They can easily be filled with gravel and topped off with some asphalt sealant.
For this event, the school chose to rent tent sidewalls with clear vinyl windows. This is really an ideal choice for cold weather, since sun coming through the windows tends to warmup the inside of the tent a bit. Sidewalls are an option for most of the tents we rent, and you can get them with clear windows or with no windows at all.
We offer three Winter Tent Rental packages, so be sure to check them out if you're planning a winter event in the Green Bay or Fox Cities area.
Fox Cities Party Rental rents:
Fox Cities Party Rental serves all of the Fox Valley region, including the following cities:
Appleton, Chilton, De Pere, Grand Chute, Green Bay, Greenville, Kimberly, Kaukauna, Little Chute, Menasha, Neenah, New London, Stockbridge, Winnebago, Winneconne, Wrightstown
Call us at 920-733-1166